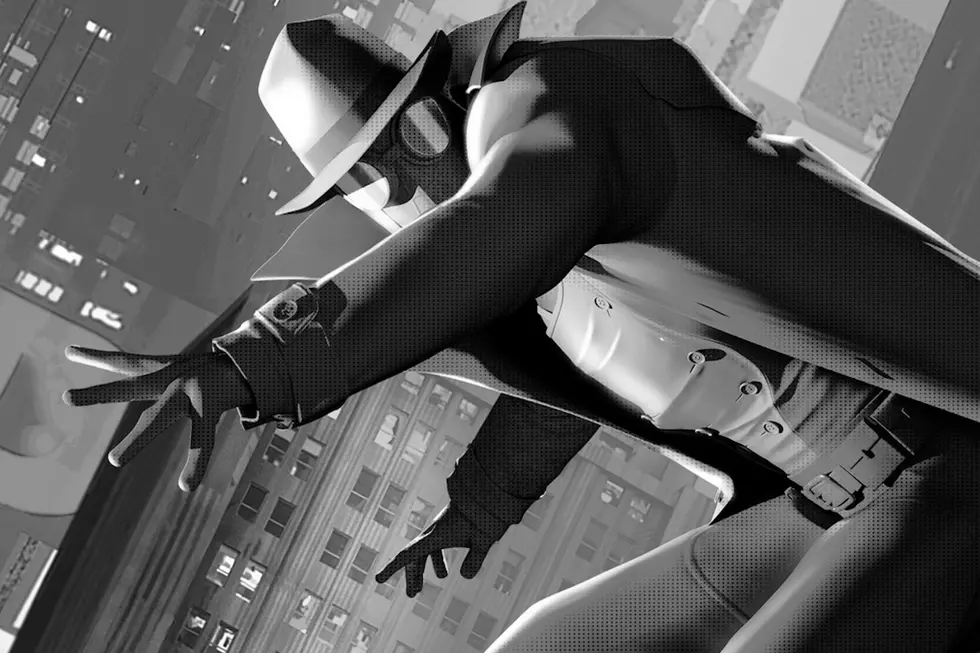 'Spider-Man Noir' To Get Live-Action Series
Sony
Sony appears to be on the verge of going into the Spider-Verse on television.
The studio is already developing a show called Silk: Spider Society, based on the Spider-Man spinoff character. Now a new report claims they're working on a separate show about Spider-Man Noir, the black-and-white hero who previously appeared in the animated Into the Spider-Verse film. This show would supposedly be a live-action production; both are being developed in conjunction with Amazon.
In the Spider-Verse animated movie, Noir was voiced by Nicolas Cage, and was depicted as a spoof of film noir gumshoes. But Spider-Man Noir wasn't originally meant as a parody; the character was created in the late 2000s as part of a whole line of "Noir" comics from Marvel, where classic characters were given makeovers to imagine them as the stars of old crime films.
Over the course of a few years, the company released series for Spider-Man Noir, X-Men Noir, Daredevil Noir, Wolverine Noir, Luke Cage Noir, Punisher Noir, and Iron Man Noir, among others. In the Noir universe, Peter Parker is a kid in the Great Depression. After his uncle is murdered, (and he gets bitten by a spider), he decides to don a mask and fight crime as Spider-Man.
According to The Hollywood Reporter, Spider-Verse producers Chris Miller and Phil Lord are developing the series along with Oren Uziel, a writer whose credits include The Cloverfield Paradox and the recent Mortal Kombat reboot.
I guess the big question is which Spider-Man Noir are we going to get a show about? The relatively dark and serious one of the original comics, or the quipping spoof of Spider-Verse? Given Lord and Miller's involvement, you would assume the later, but it's not clear at this point. Meanwhile, the sequel to Into the Spider-Verse, Spider-Man: Across the Spider-Verse, is scheduled to open in theaters on June 2.
Every Spider-Man Movie, Ranked From Worst to Best
With great power comes great Spider-Man movies. (Sometimes.)