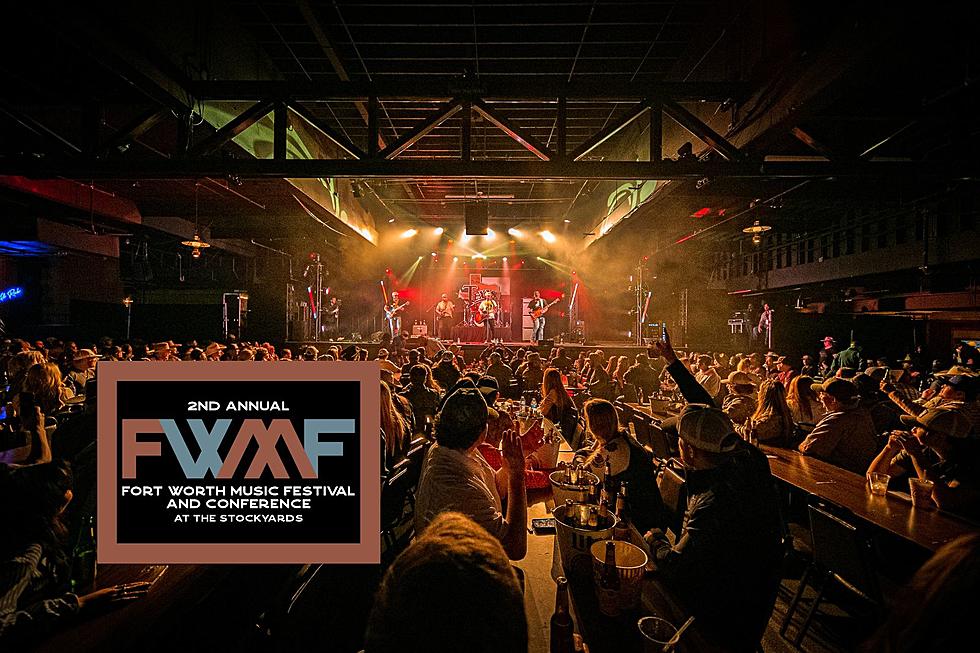 Big Music Festival And Conference Returning To Fort Worth, TX
Live Nation
While Austin, TX Has Its Annual SXSW Festival, Fort Worth Has Created Its Own Event.
The inaugural Fort Worth Music Festival & Conference drew more than 3,500 attendees from more than 25 U.S. states to countless shows and panel discussions at 10 participating music venues in the Fort Worth Stockyards in 2023.
The Festival Returns For Year Two In 2024.
Produced by Live Nation, in partnership with Chef Tim Love and Larry Joe Taylor, the Fort Worth Music Festival & Conference aims to generate awareness surrounding the Texas music scene while working to build an infrastructure where artists can establish and grow their career in Texas and beyond.
The conference sets to unite music enthusiasts and provide rising artists with an overview on how to enter and establish themselves within the live music industry, while the festival will serve as a showcase for established acts and up-and-coming talent.
The 2024 Fort Worth Music Festival & Conference will take place in multiple venues in the Fort Worth Stockyards.
The conference will extend to several venues in the Stockyards, including Tannahill's Tavern & Music Hall, Tannahill's Lobby, White Elephant, Love Shack, Billy Bob's, Cowboy Channel Studio, an outdoor stage, plus more stages to be announced.
Also, panel discussions and keynote speakers with well-established and highly respected live music industry executives, networking opportunities, workshops, and live performances.
Full festival schedule, including performances, conference panelists, topics, and workshops, with event times and venues will be announced soon.
Full conference passes which include access to all panel discussions, workshops and the live performances are available now HERE, General admission passes start at $49.50 for a two-day music pass (Friday and Saturday only).
Artists Can Submit For A Chance To Perform At The Festival.
If you're ready to rock the stage, this is your chance to be seen. Click Here To Submit Your Info And Have The Info Below Ready:
Contact number
Email information about your group-brief bio
Links and websites
Provide links to samples of your music
Press Kit
The committee makes all of its selections in January. If you or your band is chosen to perform for this year's festival, you will be contacted by the first of February. If you are not selected this year, they ask that you continue to submit for future years and they are looking for bands that have a repertoire of original music.
40 Photos Of Real Housewives Of Dallas Stars Home For Sale
Built & owned by actress, celebrity chef & Real Housewife, D'Andra Simmons-this stylish & stunning award winning two story,5 bedroom modern is on a corner lot in prestigious Highland Park and its on sale for $5.2 Million.
Gallery Credit: Christine McKenny, Agent/ Allie Beth Allman & Associates
Find Yourself! 300+ Official Rose City Music Festival Photos
Shoutout to
Callynth Photography,
located on The Square in Tyler, TX, for these wonderful pictures. Browse through 'em, if you see yourself, a friend, or just some pics that you like,
feel free to download as many as you'd like
.
The Whiskey Myers Gallery! 100+ More Official Rose City Music Festival Pics
Saturday marked the first time since '15, Whiskey Myers returned home to Tyler, TX, and they did it in style headlining Rose City Music Festival '23, presented by Peters Autosports. For the second straight year, thousands made their way to The Brick Streets for live music, good friends, and delicious food.