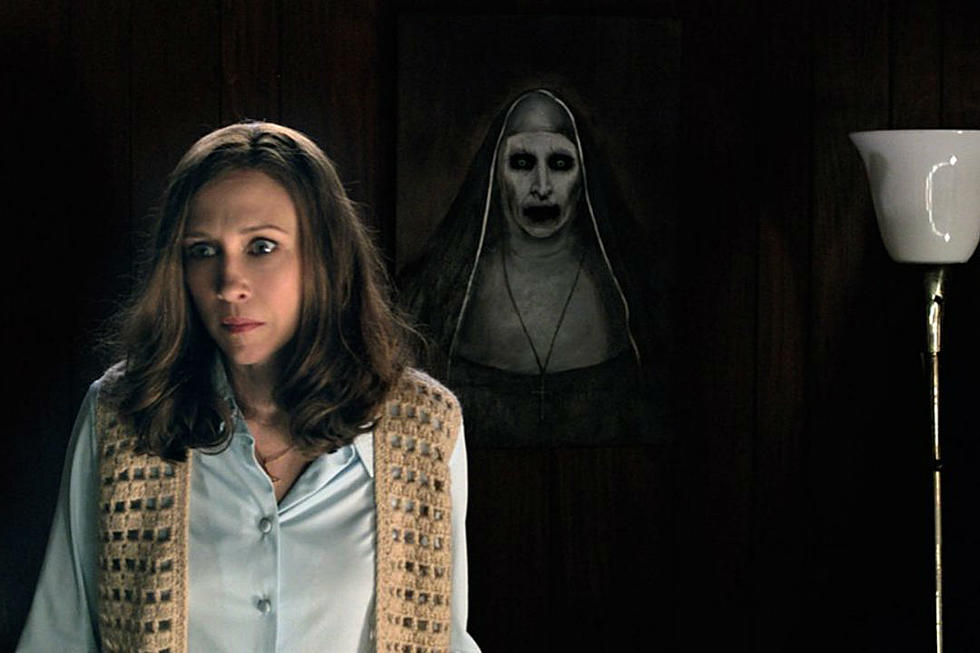 'The Nun' Spinoff Poster and Photo Tease the Darkest Chapter of 'The Conjuring' Franchise
Warner Bros.
The scariest part of The Conjuring 2 is coming back to haunt your nightmares. The demonic nun from the 2016 horror sequel will return for her own origin story in the spinoff, promising to be the "darkest chapter" in the Conjuring franchise.
The Nun comes from The Hallow director Corin Hardy and Conjuring producers James Wan and Peter Safran. The fifth film in the franchise will jump back to 1950s Romania where a young nun, Sister Irene (played by Taissa Farmiga), and exorcist, Father Burke (Demian Bichir), investigate a suicide at a convent. The spinoff will detail the origin of how the demon Valak came to embody Bonnie Aarons' eerie white-faced nun who spooked us in the 2016 movie. Here's the full synopsis:
When a young nun at a cloistered abbey in Romania takes her own life, a priest with a haunted past and a novitiate on the threshold of her final vows are sent by the Vatican to investigate. Together they uncover the order's unholy secret. Risking not only their lives but their faith and their very souls, they confront a malevolent force in the form of the same demonic nun that first terrorized audiences in The Conjuring 2, as the abbey becomes a horrific battleground between the living and the damned.
In an interview with Empire magazine, Hardy likened the film to "classic, old-school, scarlet-blooded horror films." The outlet also debuted the first photo, featuring Farmiga's nun:
The film, which also stars Jonas Bloquet, Charlette Hope, and Ingrid Bisu, along with the return of Aarons, got its first poster today, claiming it'll be the darkest story in the Conjuring universe yet. Considering that the nun was the freakiest part of Wan's sequel – and, interestingly enough, a character who was added in reshoots – the film may very well follow through on that claim. Check out the poster below before the first trailer arrives tomorrow.
The Nun hits theaters September 7.
Gallery – The Best Horror Movie Posters: