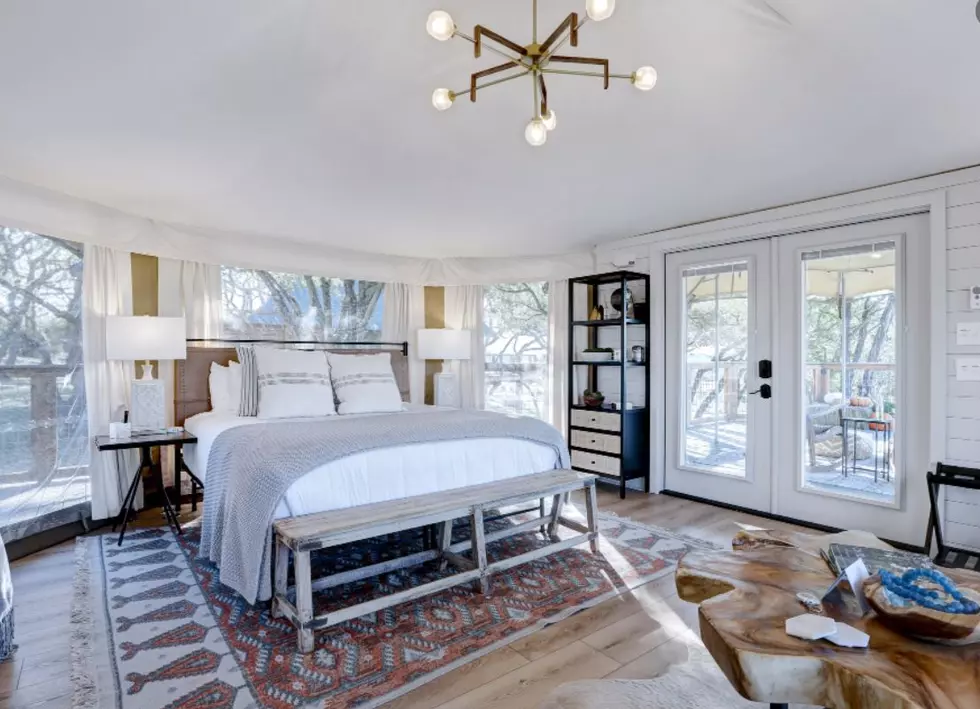 Romantic Glamping Tents In Texas A Short 5 Hour Drive From Odessa [VIDEO]
SpoonMountainGlampingFB
I have said it before many times, I grew up camping. My mom and dad would load up my siblings and myself and we would go camping on the regular, along with several other families, 'roughing it' in pop-up campers at some of Texas' most popular campgrounds. Camping for elementary age Rebecca meant community showers and riding my bike around every campground we stopped at making lifelong friends along the way. Oh and fishing, lots and lots of fishing.
Those were the days! Now all I see are fancy RV's and fifth wheels passing me on the highway and I think to myself, someday I will do it again. Camp with my own family. Except that these days camping has become more bougie and we have another name for it, it is now called 'glamping.'
According to the Oxford language dictionary the definition of glamping is:
a form of camping involving accommodation and facilities more luxurious than those associated with traditional camping.
Who wants to go glamping with me? I've never been but after seeing this place on TikTok, I am all in! Childhood camping what?
I urge to pay a little visit to spoonmountainglamping.com, to check out some of the most fabulous glamping tents located in Wimberley, TX, (30 miles outside of Austin) that you will ever lay your eyes on. 
Spoon Mountain Glamping is a luxurious escape for an upscale camping experience. 
WHAT DOES EACH GLAMPING TENT INCLUDE?
king size bed
soft bedding
chic decor
cozy seating area
full bathroom with walk-in shower
Wifi
heating/AC
mini kitchenette
private deck complete with privacy fence
soaking tub
grill & outdoor dining area
A romantic birthday, anniversary or any other special event getaway awaits you in beautiful Wimberley, TX.
LOOK: Here are the best lake towns to live in
Many of the included towns jump out at the casual observer as popular summer-rental spots--the Ozarks' Branson, Missouri, or Arizona's Lake Havasu--it might surprise you to dive deeper into some quality-of-life offerings beyond the beach and vacation homes. You'll likely pick up some knowledge from a wide range of Americana: one of the last remaining 1950s-style drive-ins in the Midwest; a Florida town that started as a Civil War veteran retirement area; an island boasting some of the country's top public schools and wealth-earners right in the middle of a lake between Seattle and Bellevue; and even a California town containing much more than Johnny Cash's prison blues.