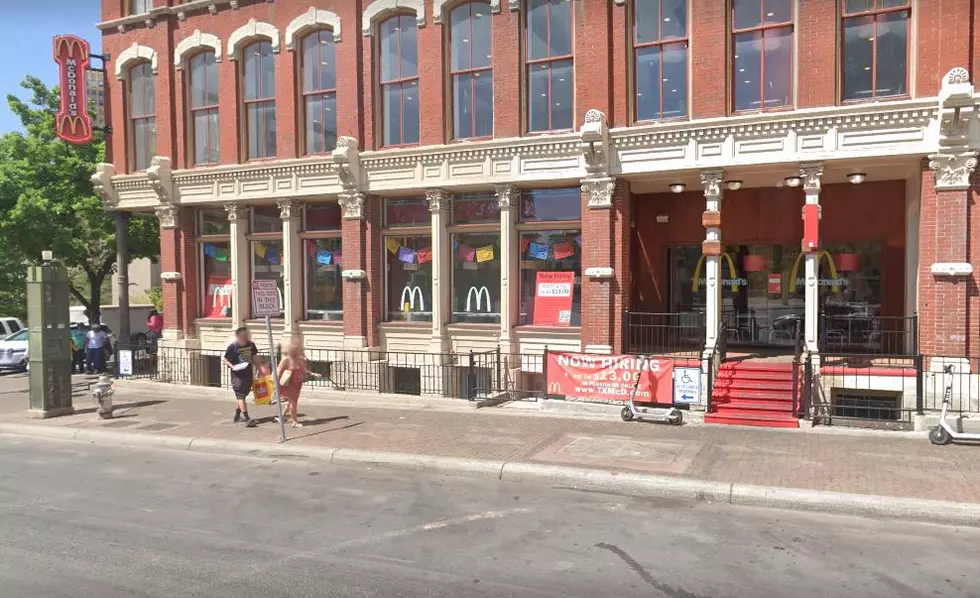 McClubbin! This Crazy Texas McDonald's Has A Club Underneath It?
Google Maps
I know getting your McDonald's fix can cause a party, but this is crazy. Big Macs, McNuggets, and those classic french fries definitely make me want to party, and who knew the party was underneath the golden arches?
LOOKS LIKE A COOL MCDONALDS WHEN YOU DRIVE BY
This San Antonio McDonald's is located in downtown San Antonio. And, it doesn't look like a regular Mcdonald's building. It seems like a Mcdonald's inside an awesome vintage downtown building.
Address of Mcdonald's: 101 Alamo Plz, San Antonio, TX 78205
And, it is a normal McDonald's, which has a CLUB located right underneath it. Now the CLUB and McDonald's have nothing to do with each other, but the video below sure makes you do a double take!
TIK TOKER DISCOVERS THERE'S A CLUB UNDERNEATH MCDONALD'S IN SAN ANTONIO!
You know that if there's a club underneath a McDonald's somewhere that a Tik Tok user would find it. TikTok user 7thwardlord posted a video of the club asking, "Why is there a club under McDonald's?" Yep! Located underneath the downtown San Antonio Mcdonald's is a club! And, from the looks of the video, the Mc Party is on!
HERE ARE SOME COMMENTS FROM THE TIK TOK POSTING...
'Tell me you're not from San Antonio without telling me you're not from San Antonio 😂'
'how did I ever know this and I've been living in san Antonio my whole life
'i just knew this was san Antonio without reading the caption.'
'i've lived here all my life and have never seen that WHAT LOL'
'that's the two-story McDonald's yeah and the basement is a club.'
THE NAME OF THE CLUB IS ON THE ROCKS PUB!
The name of the club located underneath the Mcdonald's is called ON THE ROCKS PUB! And it literally is located in the space underneath the Mcdonald's on the corner of E-Commerce St. and La Soya in Downtown San Antonio!
Their Facebook says...
On The Rocks Pub is your classic pub offering Live music craft beers and creative cocktails influenced and created by the Owner Justin Vitek. We also have pool tables and the only Shuffle board in downtown San Antonio. If you are looking for a melting pot of Downtown locals, Convention attendees and tourists look no further than On The Rocks! Everyone wants to feel home even when they're away from home and we can give you that experience. Our southern hospitality is top notch and we guarantee you won't leave disappointed! Til the next go round, Cheers
LOOK: Route 66's quirkiest and most wonderful attractions state by state
Stacker
compiled a list of 50 attractions--state by state--to see along the drive, drawing on information from historic sites, news stories,
Roadside America
, and the National Park Service. Keep reading to discover where travelers can get their kicks on Route 66.