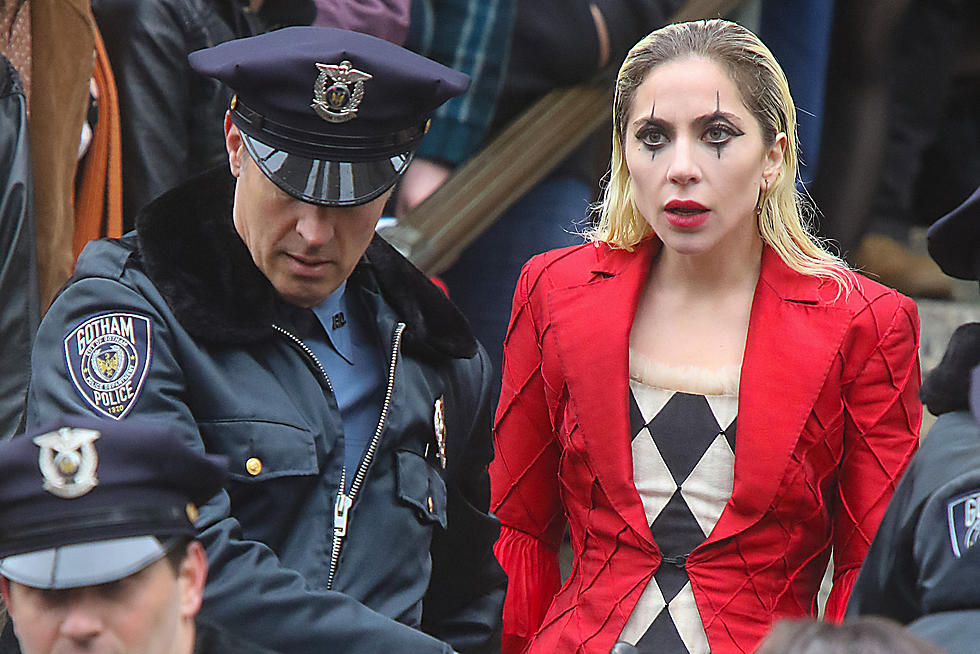 'Joker 2' Set Photos Reveal First Look at Lady Gaga's Harley Quinn
GC Images
A batch of photos that have emerged online reveal the best look yet at Lady Gaga's version of Harley Quinn, who will be featured in the upcoming Joker sequel, Joker: Folie à Deux. The sequel to the Oscar-winning 2019 film Joker starring Joaquin Phoenix and directed by Todd Phillips. Both Phoenix and Phillips are back for the sequel, joined this time by Lady Gaga. And it's a musical to boot.
The only picture we'd seen previously of Gaga's Harley was a close-up, sans the character's signature costume, in a close-up with Phoenix's Joker. Phillips shared that picture on Valentine's Day of 2023.
READ MORE: Todd Phillips Shares First Set Photo From Joker 2
In the new pictures, which were taken in New York City on March 25, Gaga's Harley is on the steps of a government building, surrounded by uniformed Gotham City police officers. In the wider shot below, you can see they're also surrounded by apparent supporters of Phoenix's Joker. One's holding a sign that reads "FREE JOKER" and another sign reads "JOKER, MARRY ME."
Although it's certainly not the original Harley Quinn costume from Batman: The Animated Series and Batman comics, the character's unmistakable style is there, thanks to the red blazer, the checkerboard shirt and leggings, and the white clown face paint. If you had no idea what movie this was from, you could tell just by looking at the images: That's Harley Quinn. (Or, at the very least, a woman who is a huge Harley Quinn fan.)
Joker: Folie à Deux is currently scheduled to open in theaters on October 4, 2024.
Actors Who Hated Their Superhero Movie Costumes
These actors looked great in their superhero outfits. But they were literally a pain in the butt (or other body parts) to wear.