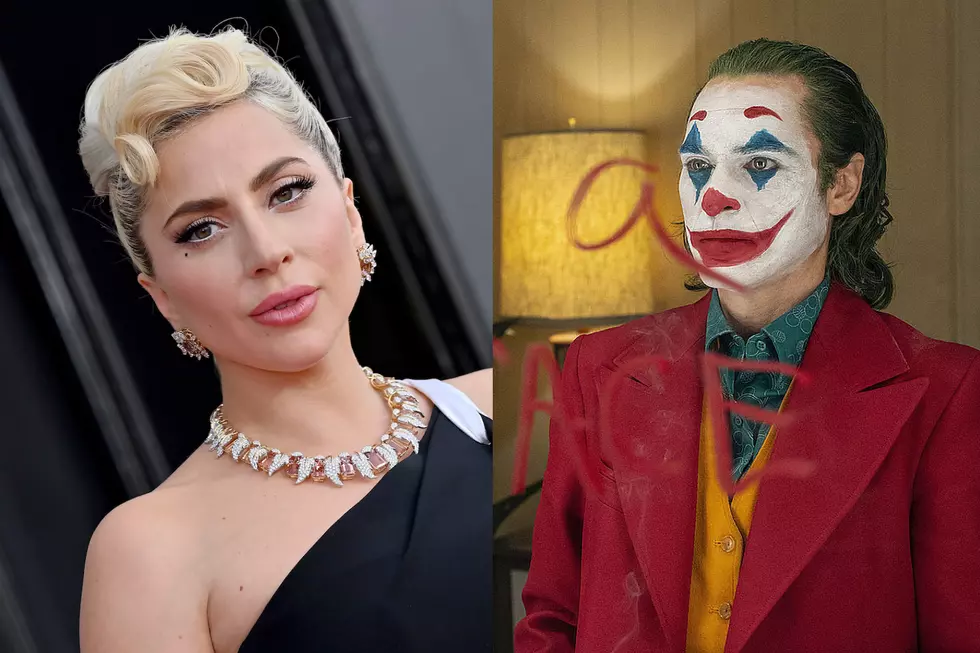 'Joker 2' Reveals First Look at Lady Gaga's Harley Quinn
FilmMagic/Warner Bros.
Ah, true love. Truly psychotic, insane love.
In "honor" of Valentine's Day, Todd Phillips, director of Joker and the upcoming sequel, Joker: Folie à Deux, shared the first official image of Lady Gaga as his film's version of Harley Quinn on his Instagram account. The photo shows Gaga as Harleen Quinzel staring intensely into the eyes of Joaquin Phoenix's Arthur Fleck and ... is that blood on his cheek? Let's hope it's just lipstick.
The caption on the image? A very simply "Happy Valentines Day."
This is the second official photo from the set of Joker: Folie à Deux. About two months ago, Phillips shared this image at the start of production on the film.
Most of the news about Folie à Deux has come from Phillips' Instagram account. He was the one who confirmed rumors of the movie's existence last year by sharing a picture of the movie's screenplay. He was also the person to reveal that the movie was titled Joker: Folie à Deux, which is a psychological term that refers to a shared delusion — and sometimes even shared hallucinations — between multiple people. Care to guess who might be the people with shared delusions in this film?
In addition to Phoenix and Gaga, the cast of the movie also includes the returning Zazie Beetz as the Joker's neighbor Sophie; in the film, Arthur falls for her, and they seem to start a tentative relationship but later in the film we discover he'd imagined the entire thing; it was all just a delusion (and not one they shared). Other new additions to the film include Brendan Gleeson and Catherine Keener in undisclosed roles.
Joker: Folie à Deux is currently scheduled to be released in theaters on October 4, 2024.
The Best DC Comics Movie Posters Ever
These posters for DC films would look great on the wall of a home or a movie theater.