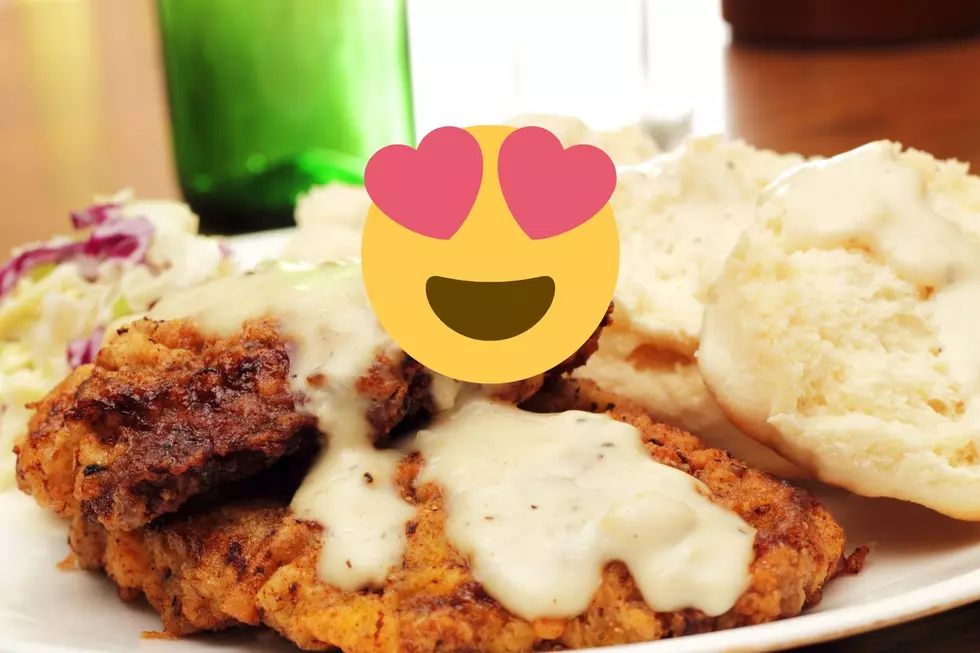 Here Is A Texas Favorite Chicken Fried Steak Recipe
Canva
Here in Texas, we take pride in having some of the most delicious food you ever tasted in your life. Us Texans like to do things big and bold here and we don't discriminate when that comes to flavor as well. There are so many Texas staple recipes that people all over the world love.
NOBODY DOES IT LIKE TEXAS!
One of my favorite comfort meals growing up had to be chicken fried steak. It truly stuns me. The whole world has experienced such a magical, succulent and delicious meal that can bring tears to my eyes lol. I knew I had to write an article on chicken fried steak and how much is appreciated it here in Texas. This recipe is the best I know how to make chicken fried steak, you will not be disappointed.
HERE IS HOW YOU MAKE THE BEST CHICKEN FRIED STEAK
You will first need to place steaks between plastic and beat the meat thin. You will need to have at least  2 cups of flour and place it in a bowl. Heat shortening in a deep cast-iron skillet to 325.  While the shortening is heating, dredge a steak in flour to coat; shake off excess. Dip into buttermilk batter; lift up so excess batter drips back into the bowl. Press in flour again to coat both sides completely. Place breaded steak on the wire rack and repeat to bread the remaining steaks.
Fry steaks, in batches, if necessary, until evenly golden brown, 3 to 5 minutes per side. Remove steaks to a paper towel-lined plate to drain. Cover with foil to keep warm while you make the gravy.
Drain fat from the skillet, reserving 1/4 cup of the liquid and as much of the solid remnants as possible.
Return the skillet to medium-low heat; add the reserved oil. Whisk the remaining 1/4 cup flour into the oil. Scrape the bottom of the pan with a spatula to release solids into the gravy.
Stir in milk, increase the heat to medium, and bring the gravy to a simmer. Cook, stirring often, until thick, 6 to 7 minutes. Season with kosher salt and pepper.
Transfer steaks to a platter and pour gravy over top.
.
14 Texas Eats We Can't Live Without
Top 20 Restaurants Central Texans Wish Would Come to Temple
A while back, I
asked the good people of Temple
if they could picture a good restaurant to fill the lot on North General Bruce Drive where the soon to be torn down Long John Silver's stood.
This was before it was announced that a Dutch Bros. Coffee location would open there (which was one of the places I predicted as a contender in our article).
So now Dutch Bros. is open in that spot, but the responses to my survey were interesting because they paint a picture of just how diverse Temple's population is. People recommended some familiar restaurants with locations in the surrounding area, but also a few I'd never even heard of.
Here are the top 20 results of the survey. Let's see what the good people of Temple are craving!
Meet Our Latest $1,000 Winners!
From now through October 15, we're giving you 10 chances every weekday to win $1,000 instantly or the grand prize of $10,000!
We'll bring you a new cash code every hour between 8AM and 5PM. When you hear a code, tap
our free app
to enter it for your chance to win.
The more codes you enter, the better your chances of taking home some serious cash like these recent winners.