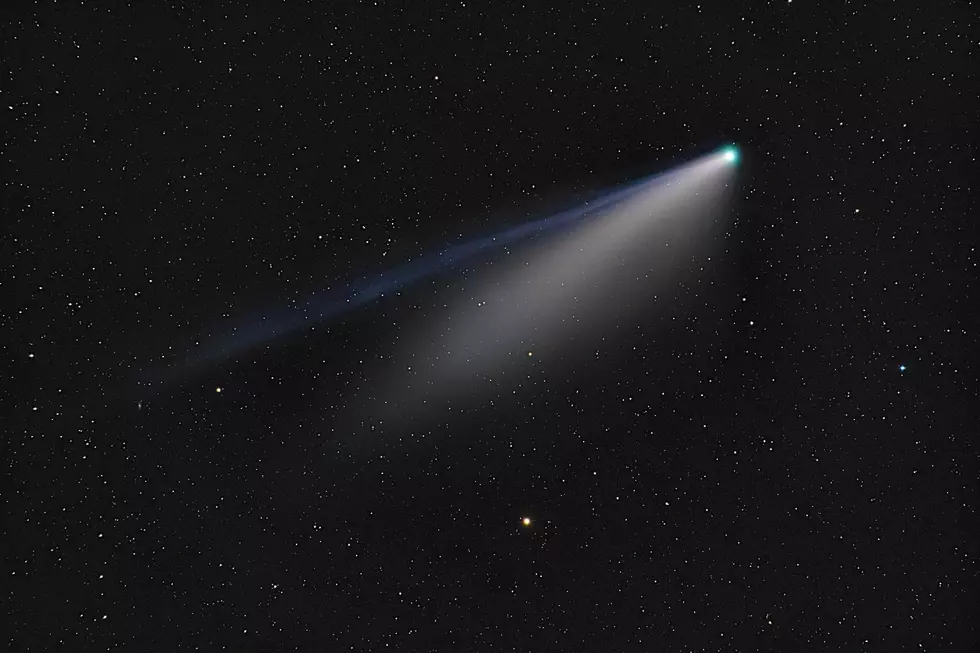 Comet K2 Is Coming This Week – Here's Where To Look
Canva
Mario already told us about the July Supermoon called the Buck Moon, but did you know there is also a comet coming this week? It's called K2 and we've got everything you need to know about it right here. 
Technically the name is C/2017 K2 (PanSTARRS), but they just call it K2 for short. Thank goodness. K2 was discovered in May 0f 2017 by the Hubble Space Telescope. According to Wikipedia, K2 is  "Oort cloud comet with an inbound hyperbolic orbit," and according to LifeHacker.com:
"when it was first observed in May 2017, it was the most distant active inbound comet ever discovered—roughly 2.4 billion kilometers from the Sun, between the orbital distances of Uranus and Saturn."
Forgive while I snicker like a 12-year-old.
When To See K2
You can see it now if you have a little help, but the closest it will get to us is on Wednesday, July 13, with the best time to view it for us being 10:09 PM.
Even though the comet is huge, it is 93 million miles from earth, this one you are going to need the help of just about any size telescope or perhaps a good pair of binoculars and you should be able to find it.
But I Don't Have A Telescope:
If you don't have the equipment but would like to watch it anyway, here's an alternative, the Virtual Telescope Project will be carrying a live feed of Comet K2 Thursday starting at 5:15 PM Central Time.
Have A Scope or Binoculars?
This comet will actually be visible through September with the aid of a telescope or good binoculars. Where do you look? During the month of July, you should look in the direction of the constellation Ophiuchus. Once we get well into August, it will take up a position at the tip of the constellation Scorpius. Any good star gazing app for your phone or tablet should point the way for you.
One More Thing:
Because we have that big, bright, Super "Buck" Moon in the sky right now, it will be even harder to see. Get to an area with as little light pollution as possible.
Happy star gazing.
Ghost Town of Rush Arkansas
Tour of the Arkansas Ghost Town of Rush
El Arroyo - The Greatest Sign In Texas
These are just a few of the many hilarious signs you will find at El Arroyo Tex-Mex Restaurant in Austin, Texas. Look them up next time you go there, we hear the food is great too.