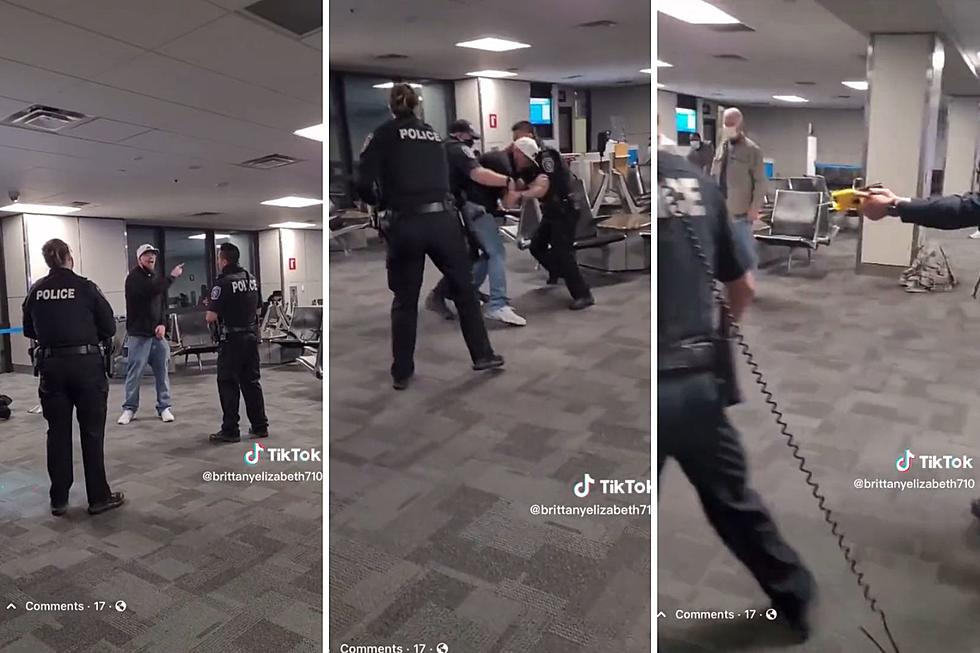 Airport Shock! Texas Man Zapped for Wild Behavior
Twitter/Canva
Two thousand dollars + three margaritas = a heaping helping of taser voltage to the rear
It's video breakdown time again, dear reader.  I'll be taking a look at the video at the bottom of this article and picking out the highlights for you.
Today, we have a rascal who's trying to board a plane to Longview, Texas, but his behaviour has caused the cops to get involved.  Let's get into it!
Two thousand dollars
Ok, the video opens with a gentleman calmly explaining to a trio of cops that he has paid for a round-trip ticket from Longview, to Bedford, and back to Longview.  Not only is this the worst vacation I've ever heard of, but how in the world was he talked into spending that much money? Bruh, just drive next time!
Tres margaritas
The cops, who show great restraint here for a while, ask the man if he's been drinking.  He admits to having three margaritas, then makes a really good point.  Why is there a problem with me drinking, when there's a bar inside the airport?
Turn around and put your hands on your head
The cops have had enough of his jaw-jacking at this time, and ask the fella to turn around and be prepared to be cuffed and stuffed.  Big surprise here: He resists. The boys in blue swiftly take him to the ground.
Taser Time
As two of the cops play grab *ss, the third calmly pulls out her taser, tells averyone to back off, and...
ZAP
...he goes down like a sack of potatoes.
That's it, take a look at the video below and let me know in the comment section if I missed anything important.  The best Twitter comments are below.
Texoma's Most Wanted Fugitives of the Week March 10, 2023
Gallery Credit: Johnny Thrash
Texoma's Most Wanted Fugitives of the Week March 3, 2023
Gallery Credit: Johnny Thrash
Texoma's Most Wanted Fugitives of the Week February 10, 2023
Gallery Credit: Johnny Thrash