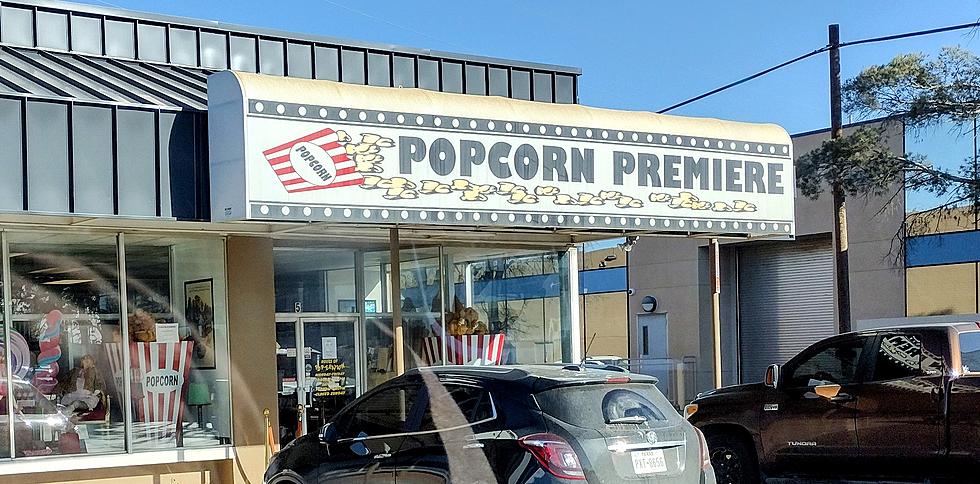 4 Poppin Places To Get Your POPCORN Fix In Midland Odessa!
Aye Aye Images
This week was NATIONAL POPCORN DAY! I'm down for that! Popcorn is like my total GO TO snack! And , I always get POPCORN when watching a movie at the Movie Theater...no question. So, when you need a POPCORN FIX in the Permian Basin, what do you hit up?
P.S. Microwave POPCORN doesn't not count in my book! LOL
HERE ARE 4 PLACES TO GET YOUR POPCORN FIX HERE IN MIDLAND ODESSA!
1. POPCORN PREMIERE IN MIDLAND
Location: 1000 N Midkiff Rd, Midland, TX 79701
Premier Popcorn has over 50 flavors of POPCORN!
Website states.....
Fried Pickle, Extra Cheesy, Caramel, S'mores, Puppy Chow, Sriracha Popcorn and many other flavors! Monster size kernels! Popped fresh daily right here in our kitchen at Popcorn Premiere in Midland, Texas!
2. POPCORN CAN COMPANY IN ODESSA
Location: Inside The Music City Mall 4101 E 42nd St # 32, Odessa, TX 79762
Featuring many awesome flavors of popcorn and YES popcorn in Cans as well!
3. CINERGY THEATERS IN MIDLAND OR ODESSA
Location: 4221 Preston Smith Rd, Odessa, TX  and 1917 Liberty Dr, Midland, TX
You don't have to GO watch a MOVIE to GRAB some theater Popcorn. Just walk into Cinergy Theaters and buy some Theater Popcorn. Still one of the best!
4. SUSIE'S SOUTH FORTY CONFECTIONS
Location: 2101 W Wadley Ave. Ste 1 Midland, TX 79705.
While they have tons of Non-Popcorn goodies they do have gift baskets that Feature Praline Pecan Popcorn
KNOW OF ANY OTHER PLACES TO GRAB SOME POPCORN?
If you know of any other awesome places to get some POPCORN, please comment below and let us know, because WE NEED TO HIT IT UP!
ARE YOU INTO FLAVORED POPCORN ?
I'm not going to lie, my #1 choice is regular BUTTER POPCORN. But, I'm not hating on some of the flavored types. Here are some of the most like flavored popcorn flavors.....
Classic butter and salt.  31% of people said it's their favorite way to eat popcorn.
White cheddar, 16%.
Caramel corn, also 16%.
Kettle corn, 15%.  Women were 30% more likely to say they liked it than men.
Regular cheddar, 11%.  So if you combine that with white cheddar, it's really 27%.
Garlic, 3%.
Turtle popcorn.  Popcorn covered with chocolate, 3%.
Gallery — Every Movie Theater Candy, Ranked: