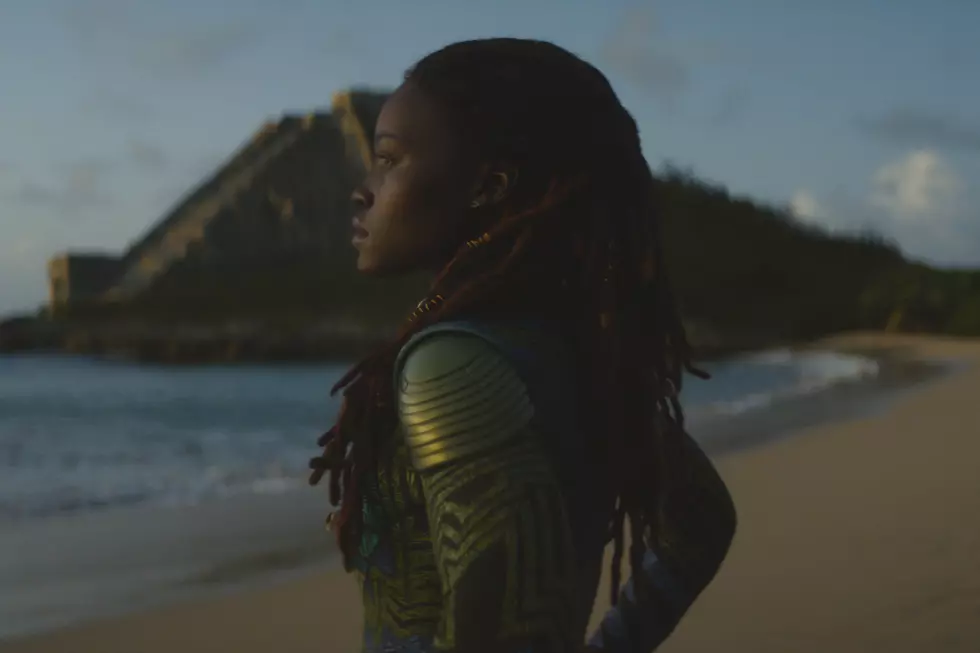 'Black Panther: Wakanda Forever' Debuts On Streaming
Marvel Studios
The moment you have been waiting for (assuming you love Marvel movies but don't love going to see them in the theater) is here: Black Panther: Wakanda Forever is now on streaming.
As of today, the sequel to Marvel's massive hit is available to watch on Disney+. The movie, which opened in theaters back in November, follows the nation of Wakanda as they attempt to move on following the death of their king, T'Challa. And the film itself was made by much of the original Black Panther's cast cand crew (including director Ryan Coogler) in the wake of star Chadwick Boseman's death in the summer of 2020, following a very private battle with colon cancer.
T'Challa's death leaves behind a power vacuum in Wakanda. As his mother, Queen Ramonda (Oscar nominee Angela Bassett), rules over the country, a new threat emerges from the depths of the ocean: Namor the Sub-Mariner (Tenoch Huerta Mejía) who is furious at Wakanda for starting an arms race for vibranium. Meanwhile, T'Challa's sister Shuri (Letitia Wright) wrestles with her place in Wakanda's future.
Following the runaway success of Black Panther, Wakanda Forever earned good reviews and grossed nearly $850 million worldwide. Disney+ doesn't have much in the way of extras or special features available at the moment, but they are offering Wakanda Forever in two versions: Standard widescreen, and also in what they call "IMAX Enhanced," where the aspect ratio changes throughout the film during some sequences to mimic the experience of watching the film in an IMAX theater (only on a much smaller screen, obviously).
Here is the film's official synopsis:
Queen Ramonda (Angela Bassett), Shuri (Letitia Wright), M'Baku (Winston Duke), Okoye (Danai Gurira) and the mighty Dora Milaje (including Florence Kasumba), fight to protect their nation from intervening world powers in the wake of the death of their beloved King T'Challa. As the Wakandans strive to embrace their next chapter, the heroes must band together with the help of War Dog Nakia (Lupita Nyong'o) and Everett K. Ross (Martin Freeman) if they are to forge a new path for the kingdom of Wakanda.
You can watch Black Panther: Wakanda Forever right now on Disney+ — here's the direct link.
Sign up for Disney+ here.
The Biggest Box-Office Hits in History (Worldwide)
These are the highest grossing films in the history of cinema.