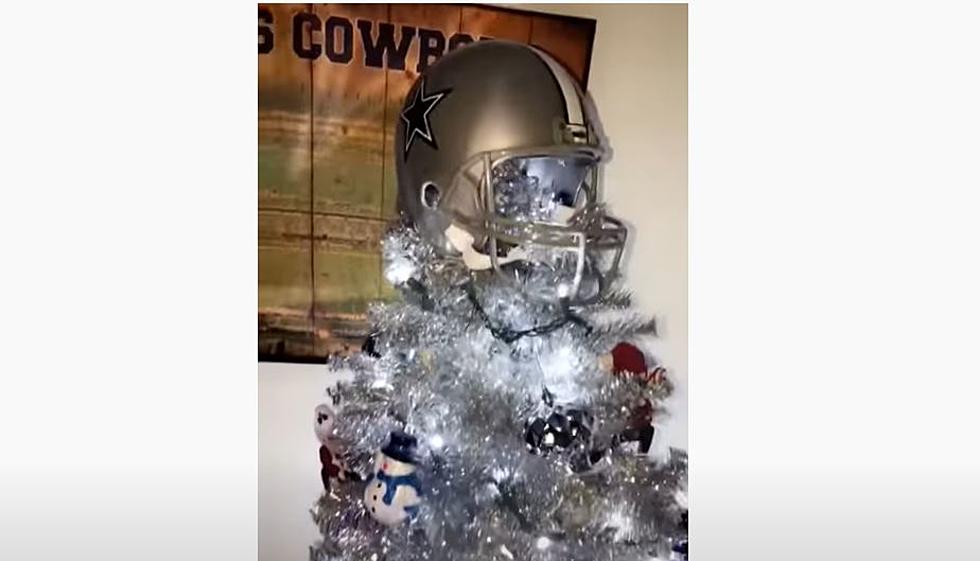 Wanna Do A Dallas Cowboys Christmas Tree This Year? Check These Out!
Morgan Rogers Via YouTube 2
Is your Christmas Tree up yet? It's that time of the year when we start putting up our Christmas Trees! And, if you are a Dallas Cowboys fan, you might have always wanted to do a Dallas Cowboys tree. I have always wanted to do a Dallas Cowboys THEMED Christmas tree but never went all in. It might be time.
Check out these Dallas Cowboys THEMED Christmas trees for inspiration if you are thinking of doing a Dallas Cowboys-themed Christmas Tree!
1. LOVE THE HOMEMADE COWBOYS DECORATIONS (PIC AND VIDEO)
2. THE COWBOYS PENNANTS ON THIS TREE ARE SWEET (PIC AND VIDEO)
3. THE COWBOYS RIBBON  POPS ON THIS TREE (PIC AND VIDEO)
4. YES TO THE COWBOYS HELMET TREE TOP! (PIC AND VIDEO)
5. GOOD USE OF COWBOYS CAPS (PIC AND VIDEO)
6. THE COOLEST COWBOYS ORNAMENTS 'The Cowboys Cooler is Sweet'...LOVE THE WAY HE DESCRIBES HIS TREE...LOL
7. THE BLUE ON THIS TREE IS EVERYTHING (PIC AND VIDEO)
Have you ever done a Cowboys Christmas Tree? If you have we , would love to see it.
SEND US YOUR PICS OF YOUR DALLAS COWBOYS TREES HERE IF YOU WANT TO SHARE!
I have always done Dallas Cowboys ornaments,  But, I have never really just dedicated an entire tree to the Cowboys. I'm shocked I haven't done one in the past years. Honestly, anything COWBOYS on a tree and I'm sure we can all make that AWESOME Dallas Cowboys Christmas Tree!
Cowboys Ornaments
Cowboys Hats And Caps
Cowboys Blue and White Lights
Cowboys Ribbon
Cowboys Helmets
Cowboys STARS
Cowboys Jerseys
Happy Holidays and a Merry COWBOYS CHRISTMAS TO All!
Are These The Top 5 Dallas Cowboys Man Caves?