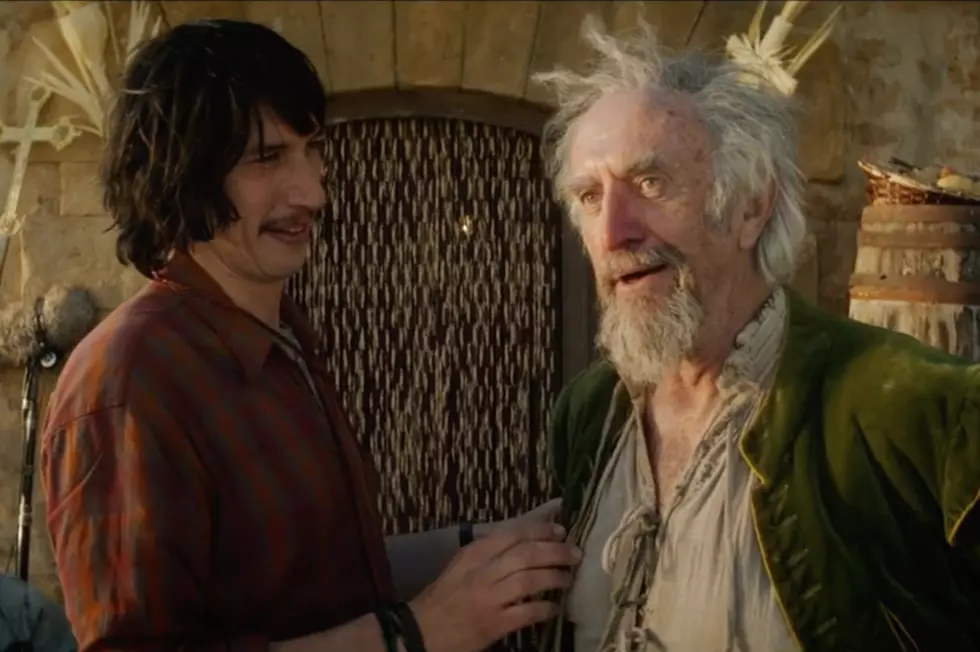 Terry Gilliam Has Lost the Rights To 'The Man Who Killed Don Quixote'
Amazon Studios
The curse against Terry Gilliam's The Man Who Killed Don Quixote continues. Even though Gilliam's decades-in-the-making film screened at Cannes last month, seemingly giving a happy ending to the on-going legal battle that's plagued the project, the filmmaker has now lost the rights to his movie. And it's only going to get uglier from here.
Last month was a bad month for Gilliam and his film, which stars Jonathan Pryce as a madman who believes he's Don Quixote and Adam Driver as an advertising exec confused into thinking he's the fake knight's squire. Amid the on-going legal battle, the film lost its U.S. distributor, Amazon, it nearly didn't get to screen at Cannes, and Gilliam was hospitalized with an alleged stroke over all the chaos. And now it's gotten worse, somehow. Over the weekend, ScreenDaily reports that Gilliam lost the rights to the film when the Paris Court of Appeals ruled in favor of the film's former producer Paul Branco.
Long story short, Gilliam and Branco been embroiled in a legal saga since 2016. Way back then, Branco agreed to fund Gilliam's project, which he'd been trying to get made since 1989, and give him creative freedom in exchange for the rights. However, Gilliam has claimed that Branco's money never arrived, thus making their initial agreement void, so he went elsewhere to get funding. But Branco insists he still owns the rights, and now the Paris Court agrees, ruling that Bronco's rights remain intact and ordering Gilliam to pay the producer's production company, Alfama Films, €10,000 (or $11,600) in fees for the appeal.
Gilliam isn't the only one facing Branco's wrath. The producer told ScreenDaily that he'd be holding all parties complicit in the "illegal exploitation" of the "illegal production," including all producers, Paris-based sales company Kinology, and the Cannes Film Festival. After its screening at Cannes, where it received mixed reviews, The Man Who Killed Don Quixote had a subsequent release in French theaters. But at this point, no one else may get a chance to see Gilliam's passion project. It's an upsetting blow for anyone, but an especially devastating one for a guy who's spent nearly three decades trying to get a movie made.