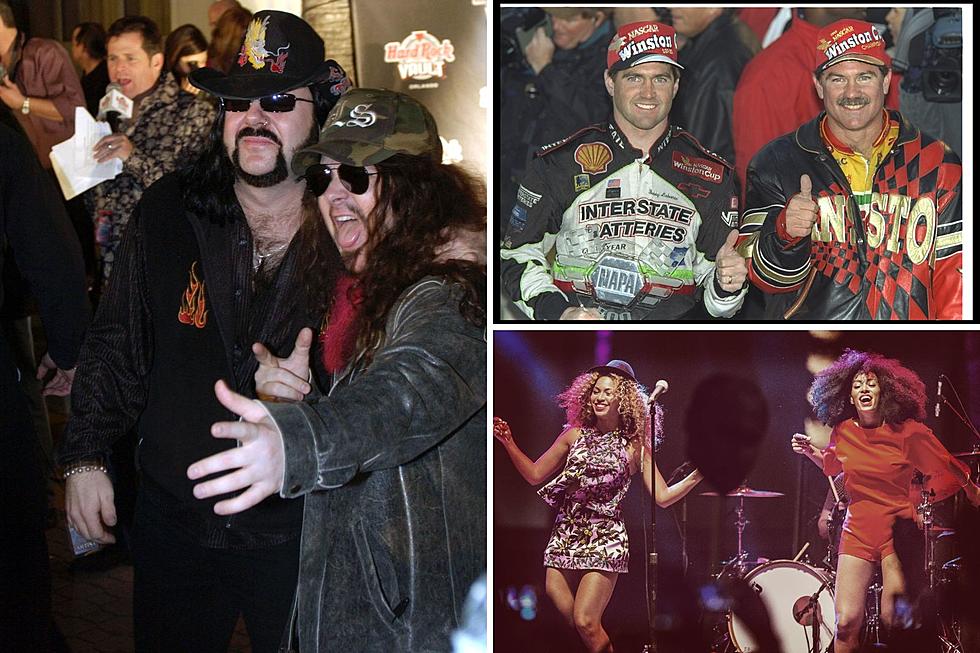 Exploring the Fame of Texas' Most Notable Sibling Celebrities
Getty Images/Getty Images/Christopher Polk via Canva
Texas has home to many celebrities; regardless if it's television, sports, music, etc. Some get famous on their own & some are famous along with their family members. That includes their siblings too; here are 10 famous Texas sibling pairings.
Dimebag/Vinnie Paul
Starting off with one of the most iconic brother pairing in metal music; the Abbott Brothers. Dimebag born in Ennis, Vinnie born in Abilene. Sadly both are gone but hopefully they're making some amazing music again, together.
The Von Erich Family
One of the biggest families in wrestling; there are many siblings within the Von Erich Family. Including Keith, David, Kerry, Mike, Chris were part of the 2nd generation. The Von Erich family would be inducted into the WWE Hall of Fame in 2009, joining several other great Texas wrestlers.
Tom/Bruce Prichard
Staying in the world of wrestling, the Prichard brothers from El Paso, Tom & Bruce, are renowned amongst old school wrestling fans. Tom has become a big name training wrestlers like Kurt Angle, Randy Orton & The Rock; while Bruce became a big name behind the scenes for WWE. He's also managed The Undertaker & wrestled under the name Brother Love.
Bobby/Terry Labonte
The Labonte brothers from Corpus Christi are one of only 2 pairs of brothers to become NASCAR champions (along with Kurt & Kyle Busch from Las Vegas). "Texas" Terry would be the 1996 Champion while Bobby would become the 2000 Champion. You can see other great Texas race car drivers here.
Stevie Ray & Jimmie Vaughan
2 names that are instantly recognizable in the world of blues rock: the Dallas brothers of Jimmie Vaughan & Stevie Ray Vaughan. While Stevie tragically passed away in 1990, Jimmie is still going strong, carrying his brother's legacy with him.
Edgar/Johnny Winter
Another name rock fans know is the Winter name; Edgar & Johnny Winter from Beaumont, Texas. While Johnny is mostly known for his blues sound, Edgar is known for his sound in... well practically EVERYTHING. But when they came together, they made some incredible music.
Rico/Raini Rodriguez
Going into the world of tv, we have the brother/sister pairing of Raini & Rico Rodriguez from Byran, TX. You may know Rico best for his role as Manny Delgado in Modern Family while Raini is best known for her role as Trish de la Rosa from Austin & Ally.
Beyonce/Solange Knowles
Beyoncé Knowles is one of the greatest singers from Houston but let's not forget her sister, Solange, who's also from Houston. Both garnering great careers as singers; and it's even better when they perform together.
Hailey/Hillary Duff
Another sister duo from Houston; Hilary & Hailey Duff have both become huge actresses (apart from both appearing in Lizzie McGuire).
The Ross Sisters
Rounding out of list of Texas siblings are the West Texas sisters Aggie, Maggie & Elmira. Their real names were Betsy Ann (Dorothy Jean Ross), Veda Victoria (Eva Vicki Ross) & Dixie Jewell (Veda Victoria Ross). Together they became one of the greatest singing/dancing/acrobatic pair of sisters in the world.
If you have a brother, a sister, or two, let this list serve that sometimes it's all about working together & building each other up. Share the love to your siblings.
40 Of The Best Musicians Born In Texas
Texas has been home to a wide variety of musical genres; many musicians have become staples of rock, metal, pop, country & more. Here are some of the greatest musicians to ever represent the state of Texas.