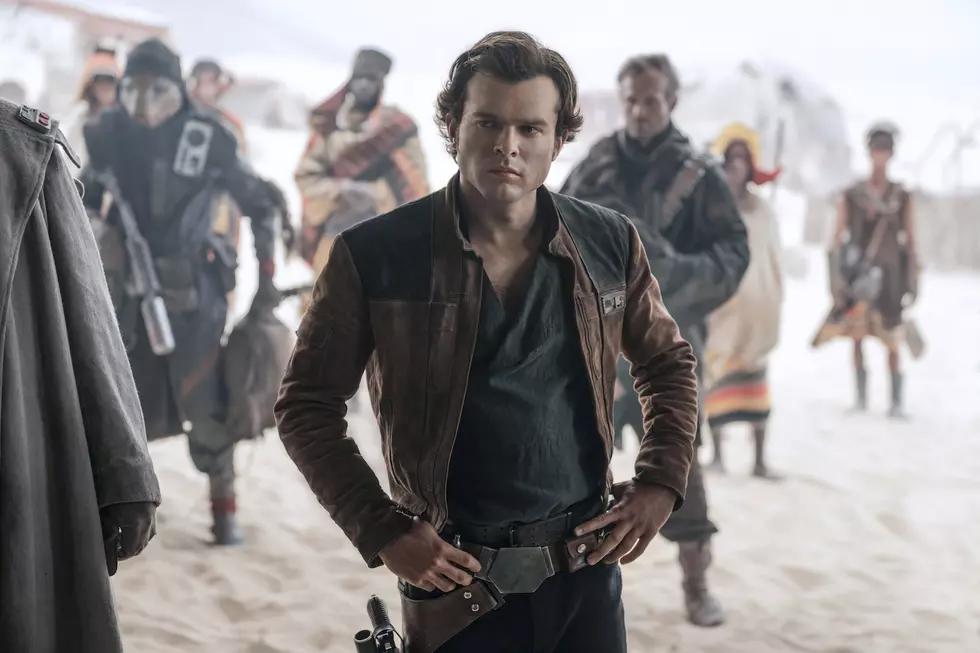 New 'Solo: A Star Wars Story' Report Claims 'About 70 Percent' Of Final Film Shot By Ron Howard
Lucasfilm
There's a general air of nervousness surrounding Solo: A Star Wars Story as its release nears closer. Will it be any good? Will the mid-production firing of directors Phil Lord and Chris Miller be evident in the final product? And how much of the finished film will actually be Ron Howard's? All the behind-the-scenes drama has been shrouded in mystery, with Howard refusing to say how much of the final cut he shot. But with on-set drama comes insider whispers, and the latest report has a few new clarifying details.
A new piece from the Wall Street Journal dives into the Solo drama. The report mentions a lot of the rumors we've already heard: that it wasn't Lord and Miller's script Kathleen Kennedy wasn't happy with, but how they were shooting it. The Journal's source echoes a previous report about Lord and Miller's shooting habits, which reportedly left some crew members aggravated. The two allegedly "shot dozens of different versions of scenes, straying from what was in the script," the WSJ reports. Unnamed actors from the film told the paper that Lord and Miller's approach "exhausted and frustrated some on the Solo set, including experienced crew members who pressured the directors to move faster."
But the most revealing nugget comes deeper into the piece. Howard, who boarded production mid-way through after Lord and Miller were dismissed, has reportedly been shooting from the exact same script the LEGO Movie directors were. And though Howard previously told Entertainment Weekly he wouldn't reveal how much of Solo is his footage verses what Lord and Miller shot, the Journal claims "70 percent of the finished movie came from scenes" Howard shot. The source also gave some tonal references that distinguished the directors' approach to the material: "Ron wanted to go back to the spirit of the original trilogy, while Phil and Chris were looking forward to something new, more like Guardians of the Galaxy," the person told the outlet.
It'll be interesting to see how well that 70 percent mixes with Lord and Miller's alleged 30, and if the differences will be noticeable. When you see the film, if you're combing it to find the 21 Jump Street directors' stuff, definitely pay attention to Thandie Newton's scenes. The actress, who's playing Val in the film, previously noted that 90 percent of her scenes were shot with Lord and Miller. Stay tuned for our full review of the movie next week. Solo: A Star Wars Story hits theaters May 25.
Gallery – Cool Star Wars Cars: