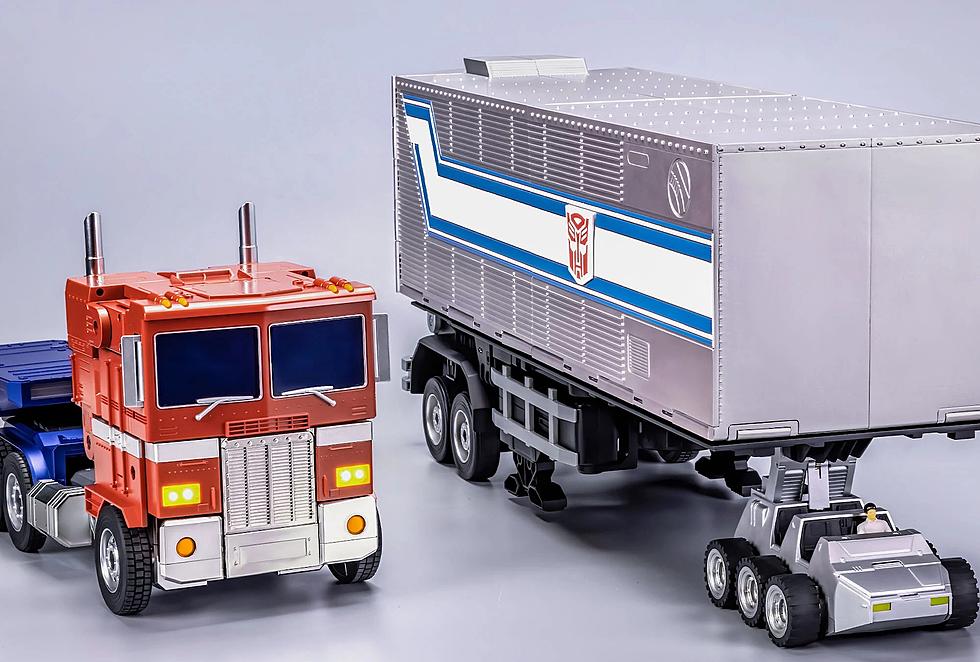 The Auto-Transforming Optimus Prime Toy Now Has an Auto-Transforming Trailer
Hasbro
If you are an extremely well-funded nerd, you may remember last year around this time, when Hasbro and the robot company Robosen released the world's first "auto-converting" Optimus Prime toy. Yes, a Transformers action figure that finally transforms itself.
At the press of a button, the entire toy transformed from truck to robot, and included 80 sound effects (plus the voice of Optimus Prime actor Peter Cullen). The darn thing was supposedly made out of 5,000 components, 60 micrchips, and 27 servos.
But what is an auto-converting Optimus Prime without an auto-converting tractor trailer to go with it? The original toy did not include one — even though it cost a whopping $749.99 — but now a year later you can get one over at Hasbro's official site. The trailer, which is also priced at $749.99, is supposedly three feet long and "auto-converts into maintenance and battle mode by folding open, pivoting upwards, and exposing its massive fire power from within the combat deck."
It also includes a Roller that docks inside the trailer and can be remote controlled via an app, and the trailer's doors can also be controlled via voice commands. You can see it in action with the Robosen self-transforming Optimus Prime in the video below.
I mean, this is the toy of every '80s kids' literal dreams. So at last we can put a price on dreams: It costs $1500 to make them come true.
If you're interested in the trailer, it's up for pre-order on HasbroPulse.com with an estimated delivery date of December 1, 2022. The self-transforming Optimus Prime that goes with it is back on sale again as well. If you get one, invite me over to play with it because I definitely cannot afford it myself.
The Worst Third Films in Movie Trilogies
For some reason, it's very hard to nail the finale of a movie trilogy. And here is the proof.