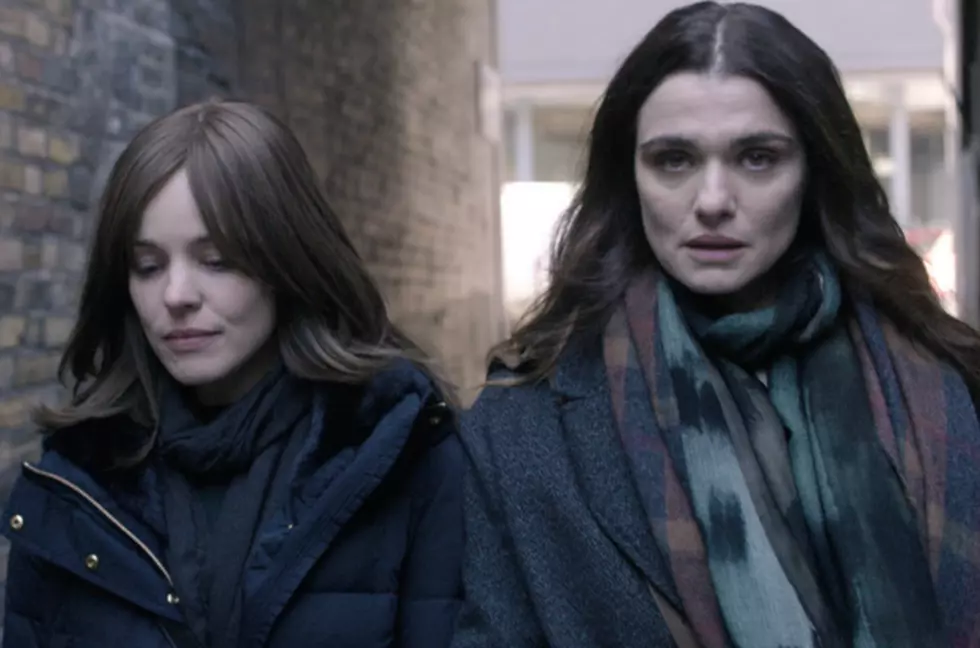 How Rachel Weisz Created One of the Year's Steamiest Sex Scenes in 'Disobedience'
Bleeker Street
By now, you should have heard of Disobedience, or should I say, the movie in which Rachel Weisz spits in Rachel McAdams' mouth. The lesbian romance drama became known for its steamy sex scene immediately after it debuted at the Toronto Film Festival last fall –  it's all the critics could tweet about. But beyond the saliva swapping, there's a reason that scene has become so central to the buzz around the film: it's one of the few well-made lesbian sex scenes, one that isn't lewd or leering, but tender and graceful. Believe it or not, it was also directed by a man.
"I've never done a sex scene that's that full of emotion and longing and needing and release and desire," Weisz told me when we sat down in New York City to chat about the film earlier this week. In Disobedience, directed by Sebastián Lelio (A Fantastic Woman, Gloria) and adapted from Naomi Alderman's 2006 novel, she plays Ronit, a New York photographer who returns home to London after the death of her rabbi father (Anton Lesser). But her home isn't an ordinary one; it's the Orthodox Jewish community she fled as a teen, one where her first love was also her best friend, Esti (McAdams). The two women reunite for the first time in years, and their charged sexual energy, repressed by years of denial and strict religion, is positively electric.
Disobedience isn't just a random gig. Weisz specifically sought it out; after spending a career acting opposite male leads, the Oscar winner wanted to tell a story about female connection and sexuality. Weisz told me what made this project so special for her, the ease of creating chemistry with McAdams, and how the two shot one of the best sex scenes in years without even removing their clothes.
You're also a producer on this. What drew you to this story as a producer, and was starring in it a part of your plan from the beginning?
Yes. I was looking for a story to tell and also act in. I was looking for a story where I could find another role for a woman. So it'd be like a woman in relation to a woman. I think everything I've ever done has been, I haven't ever done anything about female friendship. It's always been in relation to a man, I feel. So I read a lot of lesbian literature basically, and this one really grabbed me because it's contemporary, set in north London where I'm from. But it's set in a community where there are certain things that are completely taboo and expressing your sexuality is one of them, if you're gay.
I gave it to Frida Torresblanco, who's another producer, and she knew Sebastián. I'd seen Gloria. He was the first director who read it and he said immediately that he wanted to do it. He adapted it and then we brought in another writer, Rebecca Lenkiewicz. I was involved in the whole two-year development process of the script, and then I just became an actress. So I can't claim anything to do with the filmmaking.
What was it about Ronit that you felt attached to? Had you ever considered playing Esti?
When they were developing the script there was a moment where I was like, "God, Esti is kind of amazing too." And Sebastián was like, "No no, you're Ronit." That's how he wanted to – I mean, I didn't push very hard. He saw me as Ronit and he's the director, so that was fine.
So what about her? I don't know, I mean she's disobedient and rebellious. She's interesting to me because she's someone who seems free, but maybe she isn't. Because if you're running away from where you're from, you're not really free. You have to make peace with where you're from and then you'll be free. That appealed to me.
I was reading the Lenny Letter piece today where you interview Rachel McAdams about the film. You mention how both Ronit and Esti are like two halves of the same woman, which is so interesting. How did you and Rachel discuss your characters and their bond?
That was actually something Sebastián said to me at some point. It's not really playable, it's kind of an abstract idea, a symbolic idea. It was kind of a directorial point of view, I couldn't perform that. But yeah, it's kind of like if you're one person – I'm the half that left, and she's the half that stayed, that we are sort of soul sisters in some way, first loves, all that.
Your chemistry with Rachel is fantastic, and so special I think because the first time we're seeing these characters is when they reunite years later as adults. So how to did you and Rachel create that intimate energy when you hadn't explored their relationship history on screen?
Thank you. You know, we met one day in New York, Rachel, Alessandro [Nivola], Sebastián and myself and we had a little costume fitting and discussion about the script. We didn't rehearse really. We read through the script out loud once, a couple of scenes. But I don't know, it's a mysterious thing, chemistry. It's like alchemy. Sometimes you have it and sometimes you don't. You can't bottle it or touch it.
So I think it was the story, the potency of the story and how it had struck Rachel and myself in our hearts and our instincts, and also the set that Sebastián created, which was one of incredible safety. He's immensely kind and immensely loving and caring. He makes every actor feel that they're the center of his life, which, you're not really. I mean you are, but there's a lot of you that he's got to take care of, but he just has this way of making you feel completely understood. Which is really good for acting because you just feel like you don't have to explain yourself, you can just be your character. He is Esti, he is Ronit, he is Dovid, he is all of us. He sees from all our points of view. He's very special, very unusual.
Very rare. Most people want to make like, "He's the bad guy, she's the good," you know? He doesn't do that. He doesn't let you have such an easy out. We're all flawed and all human and all mean well. As he says, the antagonist is within.
I first saw this right after I saw A Fantastic Woman at Toronto and it made me realize how unique Sebastián's approach is to photographing women in sex scenes in particular. It's very respectful and graceful, which we don't see often. What was that like working with him for this sex scene?
Well I'd seen Gloria, which is a film about late-middle-age female sexuality. He just doesn't objectify humans. He subjectifies. We're used to seeing men's subjectivity in stories, in films, but much less are used to seeing women's. So he just has a male gaze that is subjectifying. He feels his characters from the inside. With Gloria, she's trying to get laid, trying to find a date and it's kind of funny and messy. She's ridiculous and earnest and heartfelt. It's everything. And Fantastic Woman is a woman trying to honor the man she loves and not being allowed to; and what does that feel like? I'm not a trans woman, but I felt what it was like to be her when I watched it. So that's Sebastián. He just, I don't know, talked to his mom. [Laughs] I don't know how he got that point of view. I can't claim anything apart from that I trusted him not to objectify us.
I think that speaks to why this movie is already so well known for its sex scene. It's pretty amazing that both you and Rachel remained clothed in it, and yet it's still a steamy sequence. 
I don't know if you talked to him, but he storyboarded it. Basically in the script he wrote, "They make love." And that was it. We didn't really know what it was going to be. About two weeks before we started to shoot it, he presented Rachel McAdams and myself with a storyboard, which had every gesture, like my face – everything that you see in the sex scene, it was storyboarded. None of it was our idea, it was all his idea. So we signed off on it and went, "Okay, that sounds great," and had time to think about it. I don't know what you do with that information, but time to process it unconsciously or something.
But on the day, I guess we felt safe because we knew what was required of us. We had to hit these points, and then we could abandon ourselves to doing our jobs, which was to feel. It was very vulnerable, very emotional. I've never done a sex scene that's that full of emotion and longing and needing and release and desire. It was the culmination of many, many years of waiting. It was emotional, very emotional. But that's all Sebastián.
How did that compare to your previous work with male directors for sex scenes? Was it any different?
I think sometimes male directors get kind of embarrassed. It's embarrassing. They're not all bad people; they might feel bad, and it's like, "Oh god, you've got to do this." But he didn't feel bad, he was like, "This is a beautiful scene." And he helped us tell the story. It was very different in that he authored all of the gestures that are in the scene, so it was immensely specific everywhere in the film. But he was specific everywhere in the film, in tiny gestures and moments. Sort of choreographed, but also very free.