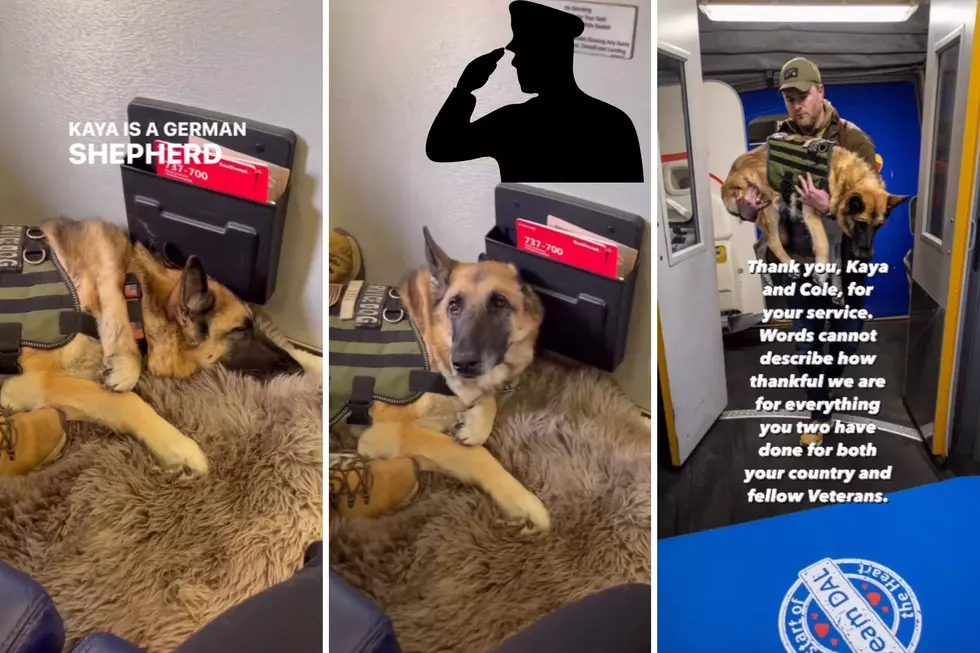 Meet One Of The Most Honorable Dogs In Texas, Named Kaya
Instagram Southwest Airlines/Canva
When we think of heroes, it's difficult to not think about those who have served our country. There are so many individuals who have served to protect the freedoms we enjoy. Some have even given the ultimate sacrifice.
There will never be enough words to thank these individuals who protected us. But when they come back after service, some need help with the adjustment back into society. Some veterans sadly deal with Post-Traumatic Stress Disorder after their time serving.
To help heroes get through stressful times, a veteran may have a dog with them to help. These dogs are trained to help in tough times for the individual who served. One of those dogs who helped a veteran you ask? Her name was Kaya, a German Shepard.
Kaya Honors Through Her Service
In a video posted by Southwest Airlines, Kaya flew to her home of Dallas with a veteran of the Marine Corps, Cole Lyle:
As stated in the video, Kaya took flight with Cole over 250 times on the airline. The video posted showed her last flight home to the Lone Star State, and Southwest gave her the honors she deserved.
Kaya was also, according to WFAA, a service dog whose efforts in helping veterans,  lead to the creation of the PAWS Act. Kaya truly was a dog that helped heroes reacclimate back to society.
However, Kaya recently passed after her last flight. She had a form of cancer which was untreatable. Her owner, Cole, posted on social media when passed:
In closing:
Thank you for your service Kaya. You are truly a hero.
10 Myths About Texas That Even Some Natives Believe
Everything's bigger in Texas, including the tall tales! Our state can seem pretty strange to people from far away, or even our immediate neighbors. There are several myths about Texas that range from quirky to fun and just plain ignorant and insulting, and even some people born and raised her believe 'em. Here are a few we can dispel today.
Top 25 Delicious Foods & Drinks That Define The Great State of Texas!
There's more to Texas than just Dallas Cowboys and oil in fact, Texas has helped shape the taste of America. From BBQ, to Tex Mex to Ice Cream and beyond, Texas has introduced the rest of the U.S. to the Texas way of life through food. So what foods and drink make Texas so special? Let's take a look.
21 Texas Town Names Outsiders Can't Pronounce
Have you ever heard someone call Killeen "Kye-lean" or Salado "Salad-oh"? That's just the tip of the Texas mispronunciation iceberg. Here are the towns and cities most folks who didn't grow up in Texas don't have a clue how to pronounce.
Which Are The Most Famous Brands From The Lone Star State?