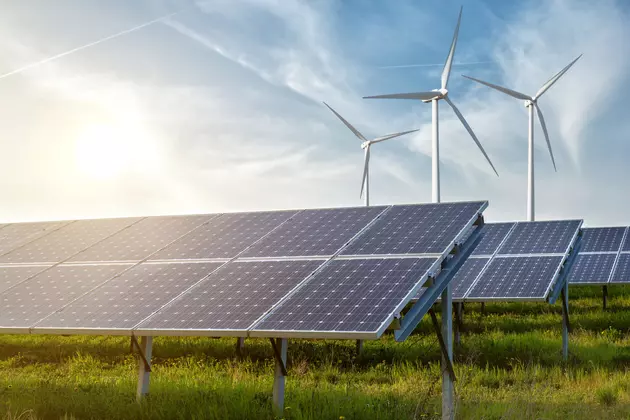 New Permian Energy Center in Andrews County is Texas' Largest Solar and Wind Farm
artJazz/Getty Images/ThinkStock
The Permian Basin is home to over 100,000 oil and gas wells, but we are also the home of the largest solar and wind farm in the state too.
According to the Midland Reporter-Telegram, renewable energy is getting more and more real estate in the Permian Basin especially with the opening of the Permian Energy Center.
The center is located in Andrews County and is "a utility-scale 460 megawatt alternating current (MWAC) hybrid solar and battery storage facility" according to the MRT.
The Permian Energy Center has 1.3 million solar panels on 3,600 acres right next to oil and gas wells, and will be able to power 80,000 homes with clean energy as well as 40 MWAC of battery storage.
"Storage has come a long way in the last few years," said Philip Moore, Senior Vice President of Ørsted Onshore North America, the builder and operator of Permian Energy Center. "As storage becomes more cost-competitive, it will likely be part of many wind and solar projects. The transition to renewables in the U.S. has been strong and will continue, and storage plays a huge role in that transition."
Moore also said that the Permian Basin is unique in the way that it allows for oil and gas to work beside solar, wind, and storage.
"Altogether, these offerings play a critical role in powering the future energy of the country and brings more energy security to the growing economic engine in the U.S," said Moore.
After the huge winter storm in February, some have raised concerns about how renewable energy would stand up to extreme weather conditions even though renewable energy did well in the storm, it was oil and gas that had more trouble in the extreme cold.
Moore said the facility was built with a long-term ownership plan and with the expectation of honoring that long-term plan in the Permian Basin.
50 Famous Brands That No Longer Exist