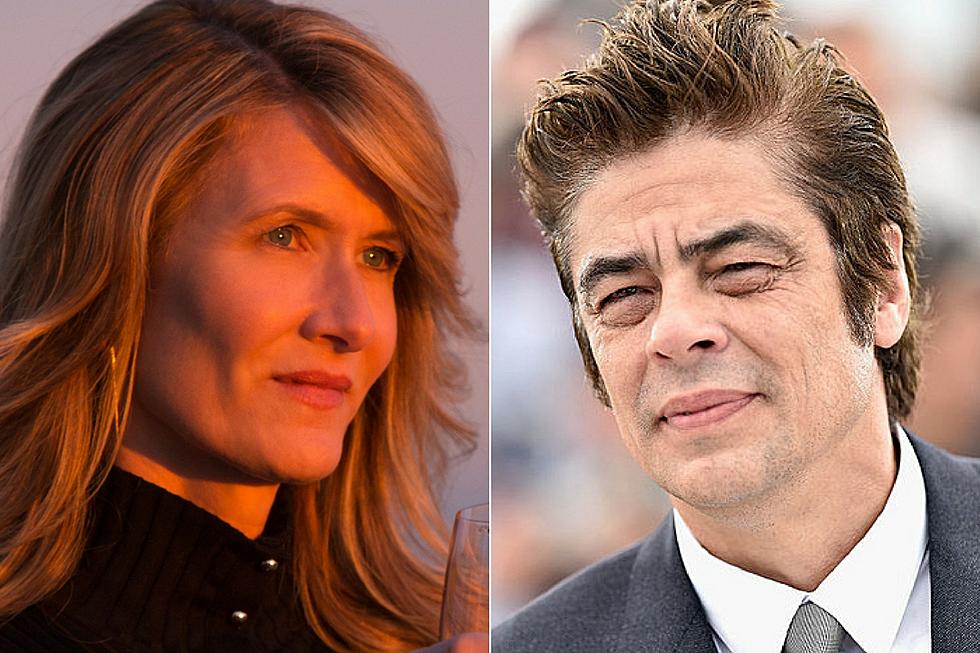 Meet Laura Dern and Benicio Del Toro's 'Star Wars: The Last Jedi' Characters
HBO/Getty Images
When it comes to the movies, these are lucky times we're living in. A new Star Wars movie opens this December with the return of new favorite – Rey, Finn, and Poe – and old favorites – Luke and Leia. But even for those who aren't deeply professed fans of the galaxy far far away, Rian Johnson's The Last Jedi has a little something for you too; Laura Dern with purple hair, and Benicio Del Toro, looking as cool as ever.
Vanity Fair's summer cover story is all about Star Wars, and in honor of the 40th anniversary this year, the magazine released four covers featuring the space gang. Today they dropped their cover story, complete with even more photos by Annie Leibovitz – including new ones with the late Carrie Fisher, looking dashing – and the very first look at Dern and Del Toro's characters.
The Big Little Lies actress poses with her back to the camera, showing off her rippled purple dress and matching colorful locks. Laura Dern is playing a woman with purple hair in space, I repeat. Be excited. She'll play Vice Admiral Holdo, "a prominent officer in the Resistance." Back in November, it was rumored Dern's character would be "aristocratic and fancy" with colored hair, so hopefully we can expect some snippy, posh remarks from the Vice Admiral.
There are fewer details about Del Toro, who's character apparently isn't named in the film, though Johnson refers to him as "DJ." The actor is playing a "shady character" of unknown allegiances, which fits in line with early rumors of his role. A report from last year suggested Del Toro would be cloaked in all black (correct) and would seem trustworthy to John Boyega's Finn and Oscar Isaac's Poe, but later reveal otherwise. Here's the first look at Del Toro's mysterious character, who could really use a bath, or at least some face wipes:
The third newstest character to join the Star Wars universe with Episode VIII, and the largest part of the three, is Kelly Marie Tran's Rose Tico. She's a maintenance worker for the Resistance who's involved in "a mission behind enemy lines" with Finn. Rose also has a sister in the film, Paige, a pilot gunner trained by Poe who is played by Veronica Ngo.
Star Wars: The Last Jedi will also feature the return of Mark Hamill's Luke, and of course Fisher's General Leia. The film hits theaters December 15.