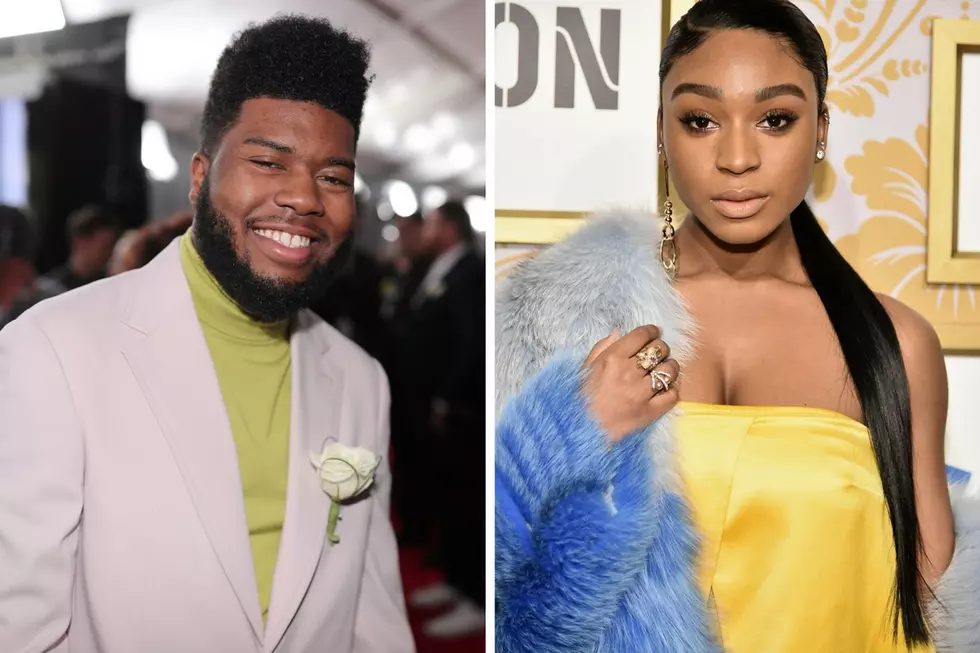 Khalid + Normani Debut 'Love, Simon' Soundtrack Single 'Love Lies'
Christopher Polk/Getty Images for NARAS; Steven Ferdman/Getty Images
The sultry-smooth track premiered on Beats 1 on Wednesday (February 14), marking Normani's first solo track apart from 5H. "[Khalid] is definitely such an amazing soul and I think that that's why this record means so much to me personally," Normani, who previously starred in Khalid's "Young Dumb & Broke" video told host Zane Lowe. "And I know that it means a lot to him as well. It's just because we're genuine friends."
Added Kahlid: "The moment that we saw each other it was like we were instantly best friends. She's so like me in so many different ways and we have so much fun together, and she's so honest and so real and just nice."
Normani went on to address what the song means for Fifth Harmony, who parted ways with breakout solo artist Camila Cabello in 2016. "I think that we've definitely proven to ourselves and the rest of the world that we've worked incredibly hard to get to the place where we're able to really explore ourselves now. And I think that it's a space that we created amongst the four of us," she explained. "We're confident women individually and also together, but we do recognize that, you know, at the end of the day none of us would have these individual opportunities to explore ourselves or to show the world who we are, without each other."
She also teased that she has more solo music on the way, while Khalid — who put out his Grammy-nominated debut album, American Teen, last year — said he's been in the studio and hopes to put out another record later this year.
"Love Lies" will appear on the soundtrack for Love, Simon, a teen dramedy due out March 16. It stars Nick Robinson (Melissa & Joey) as a gay high schooler not yet out to his friends and family who falls in love with an anonymous classmate online. Jennifer Garner, Josh Duhamel, and 13 Reasons Why's Katherine Langford are also set to appear.
Listen to "Love Lies" above.
13 Things You Didn't Know About Camila Cabello: