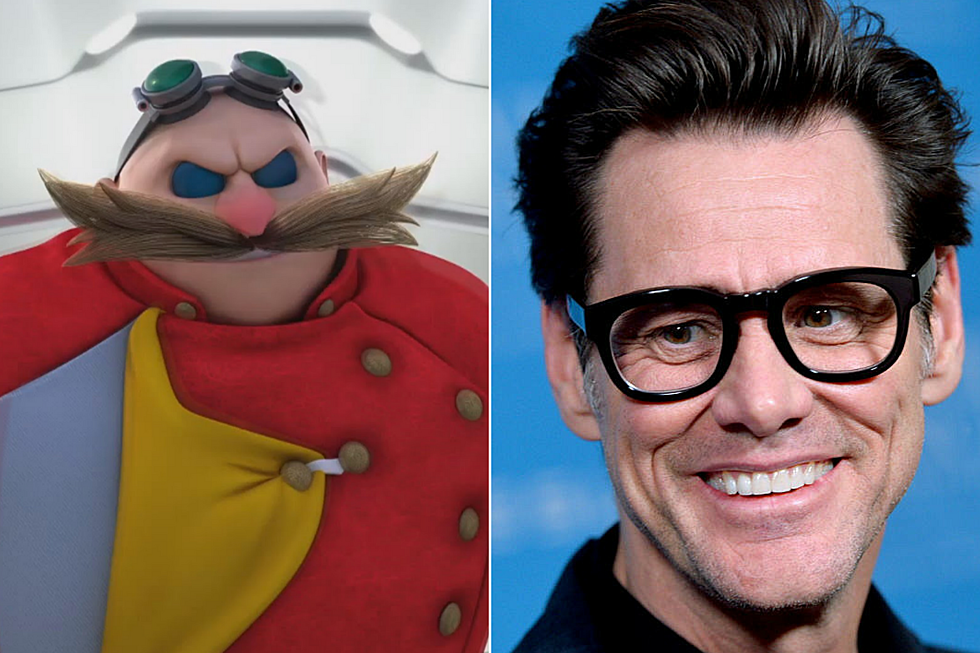 Jim Carrey To Voice Mad Scientist Villain Eggman in 'Sonic the Hedgehog' Movie
Cartoon Network / Getty Images
Jim Carrey is returning to his mad scientist roots, but don't worry, he won't be donning a green body suit and red hair this time (one can only hope). Carrey is in talks to play another villainous scientist in the upcoming Sonic the Hedgehog movie.
Sega is giving the blue critter his very own movie in a Sonic the Hedgehog feature, which will blend will live-action and CGI. According to The Hollywood Reporter, the adaptation of the '90s video game has found its villain in one of the '90s biggest stars. When you think of Carrey, you think of his over-the-top performances of buffoonery and mania in everything from Ace Ventura and Dumb and Dumber to The Mask and Liar Liar. And, of course, the unforgettable Batman Forever. So it isn't a stretch to imagine him playing a mad scientist hellbent on world domination.
Carrey is in talks to play Sonic's ultimate nemesis Dr. Eggman, also known as Robotnik. In the video games and Cartoon Network's Sonic Boom TV series he's pot-bellied, bald, and has an insanely large mustache. That certainly gives Carrey a lot to play around with, assuming he's not just voicing a CGI character. No word yet on the plot, but like the video games, I imagine it'll involve Sonic and Tails trying to thwart Eggman's evil plans.
First-time director Jeff Fowler is behind the project, which is being executive produced by Deadpool's Tim Miller from a script by Pat Casey and Josh Miller. The Sonic movie also currently stars James Marsden and Tika Sumpter. Get ready to see evil Jim Carrey again once it hits theaters on November 15, 2019.