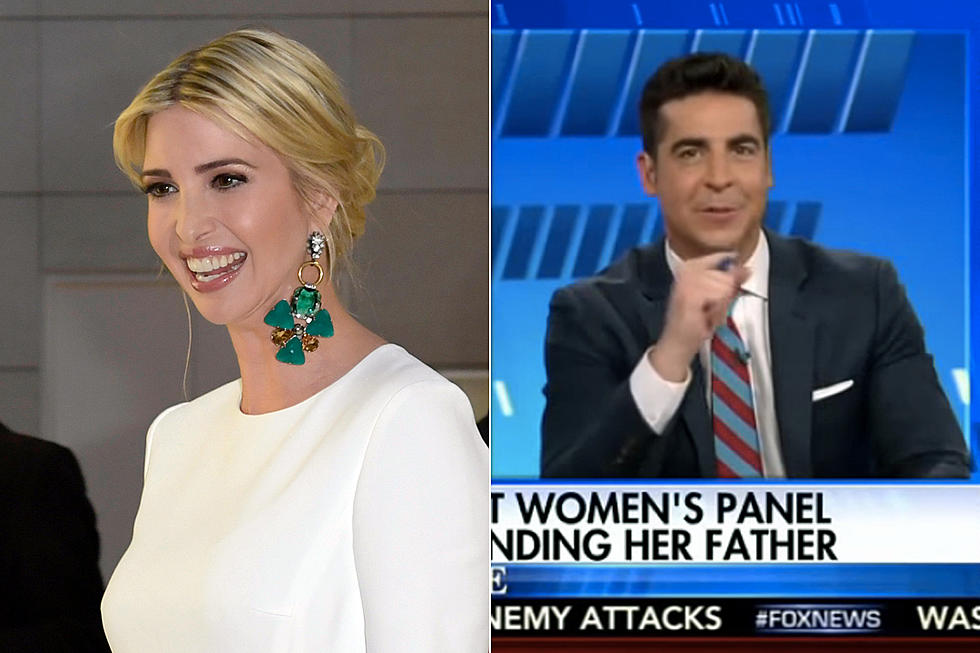 Bill O'Reilly Protege Jesse Watters Makes Lewd Comment About Ivanka Trump, Goes On Vacation
Getty Images
Fox News personality Jesse Watters made an obviously crude, vulgar remark about Ivanka Trump on The Five, and now he's gone away on vacation. No word yet on whether the vacation was his choice, but after all the recent high-profile troubles surrounding the network — particularly regarding its male hosts' treatment of women — this is probably the last thing anyone at the network wanted to have to deal with.
The remark, which occurred during the Tuesday, April 25, show, came during a discussion about the first daughter's recent trip to Germany, where she was booed at a Women20 Summit discussion after suggesting her father, President Donald Trump, was a big supporter of families and women.
It was first spotted by journalist Yashar Ali:
"I don't really get what's going on here," Watters says on the panel program where he sits in the center chair. "But I really liked how she was speaking into that microphone." What's more, he makes a slight hand gesture toward his own grinning mouth as he says it.
Watters, best known from his street-ambush interview segments on The O'Reilly Factor back when that was still a show, denies his comment was lewd:
(No, this explanation doesn't make any sense to us either.)
Watters also hosts the Saturday-night program Watters' World on Fox, and his recent gig on The Five was perhaps a sign of his rising stock at the company, particularly in the wake of losing star anchor Bill O'Reilly over sexual harassment claims. But Watters announced on the following night's show that he would be taking a vacation, missing the rest of this week and his weekend show.
You may recall that O'Reilly took a not-so-mysteriously timed vacation soon after news broke of the millions of dollars Fox News and he had paid to five women to settle sexual misconduct allegations. Before O'Reilly returned home, he was fired. After that, Fox News said that things would change. Sigh...