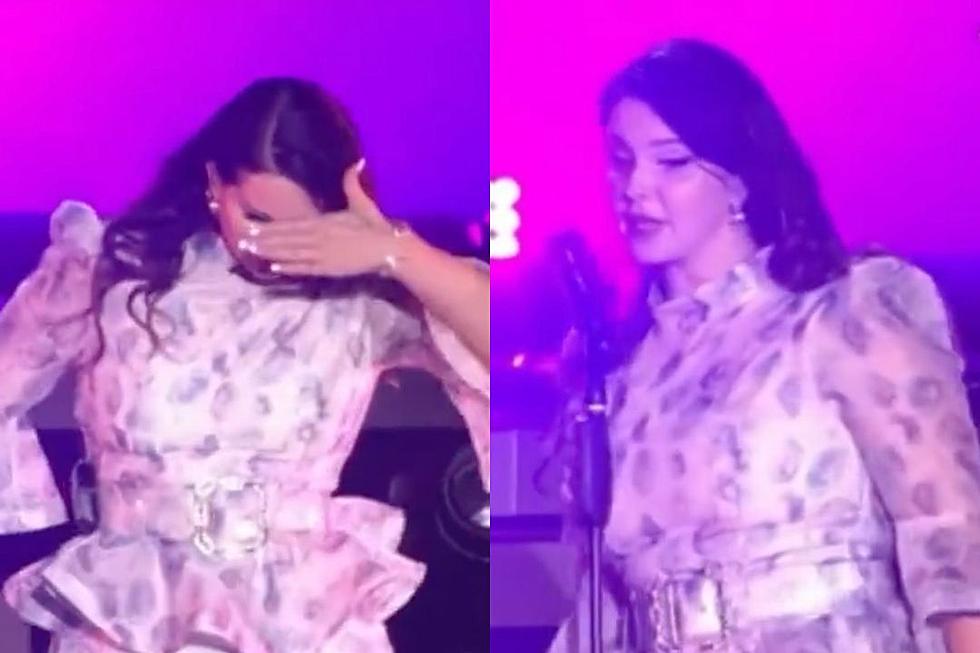 Lana Del Rey Pauses Concert to Look For Missing Vape: WATCH
@LDRCrave Twitter
Lana Del Rey had a crisis mid-concert — she lost her vape.
On Saturday (May 27), the pop hitmaker headlined the MITA Festival in Sao Paulo, Brazil. In between performing "Video Games" and other hits, Del Rey stopped her show after she realized that she misplaced her e-cigarette.
"And also if you see my vape onstage… Can you find my vape onstage?" she asked her crew and legion of fans in the crowd. A fan came to the rescue and pointed it out and rallied to get her attention.
"You did?" she exclaimed before running towards the end of the stage only to discover that she couldn't reach it. "Where, though? Oh, all the way in the pit? F-ck it."
The moment was uploaded to social media platforms and quickly became a meme and viral clip with her fans dubbing it, "That's mother."
"She's just like me [for real]," a fan commented. "The country accent, the way she picked the mic, the f--k it. ICONIC," another added.
Others agreed, with another adding: "Lana is always so real we love her for that."
Del Rey has been known to smoke on stage while performing and even while filming music videos.
"Well, smoking is one of them," she told Complex of her unhealthy habits. "Sugar, coffee. I must have 13 cups a day. It's a shame about the health consequences because a lot of great things happen over coffee and a cigarette. A lot of great songs were written... Yeah. I'm a chain-smoker."
She admitted that she "can't get through it [a concert]" as a "chain-smoker."
"If people come and see you at a show for 80 minutes they literally know everything about you. With 5,000 people coming, they film you so the people in the back can see you on the screens. There isn't a moment when you can turn around and gather yourself," she concluded.
Artists Who Cancelled Their Concert Tours