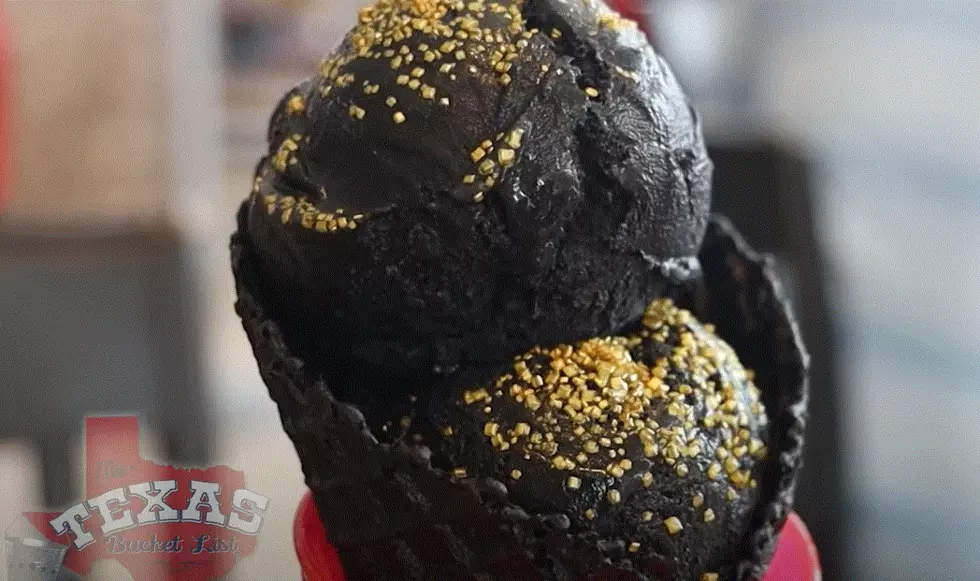 Is 'Black Gold' The Most WEST TEXAS Ice Cream Flavor Ever?
The Texas Bucket List Via YouTube
In February of this year , The TV show The TEXAS BUCKET LIST featured Midland's own Fountainville Creamery & Soda Fountain. And, if you missed it, the Texas Bucket List has it on their YouTube Channel.  See it Below!
In fact after the showing of the episode on CBS, the response was so great they actually sold out of Ice Cream.
FOUNTAINVILLE HAS BEEN IN THE PERMIAN BASIN FOR 6 YEARS
Here is how The Texas Bucket List described the shop...
This isn't your average ice cream shop that serves chocolate and vanilla, but they serve black ice cream and a whole variety of interesting flavor names!

 
THEY ARE KNOWN FOR THIER BLACK GOLD FLAVOR!
The episode dives into all the 'crazy' names and flavors of ice creams they have and really focuses on the 'Black Gold' flavor. This has become one of the flavors that has people talking. And, it truly is all West Texas. The Permian Basin is all about that 'Black Gold' so naturally there should be a flavor that represents it! And yes , it's at Fountainville! By the way, it will make your tongue black. Lol
OWNER J.P. HEARN SHOWS HOST Shane McAuliffe AROUND THE SHOP
Summer is just about here and yes ICE CREAM eating will be on the rise. Well, there's a reason why Fountainville Creamery was featured on The Texas Bucket List.  I have been there many times, and yes the flavors are so unique and very tasty. Other crazy WEST TEXAS flavors include Cornbread, Tumbleweed, Avocado Toast and of course Sand Storm. All great West Texas names!
LOCATION: 1307 N Loop 250 W STE 8A, Midland, TX
Treat yourself to this unique West Texas experience, Plus yes, they have other treats as well! Love the dipped bananas in chocolate on a stick! And, don't forget to try the 'Black Gold' flavor!
HERE IS THE EPISODE BELOW!
Midland's Loop 250 At Highway 191 - See How's Its Changed After 15 Years