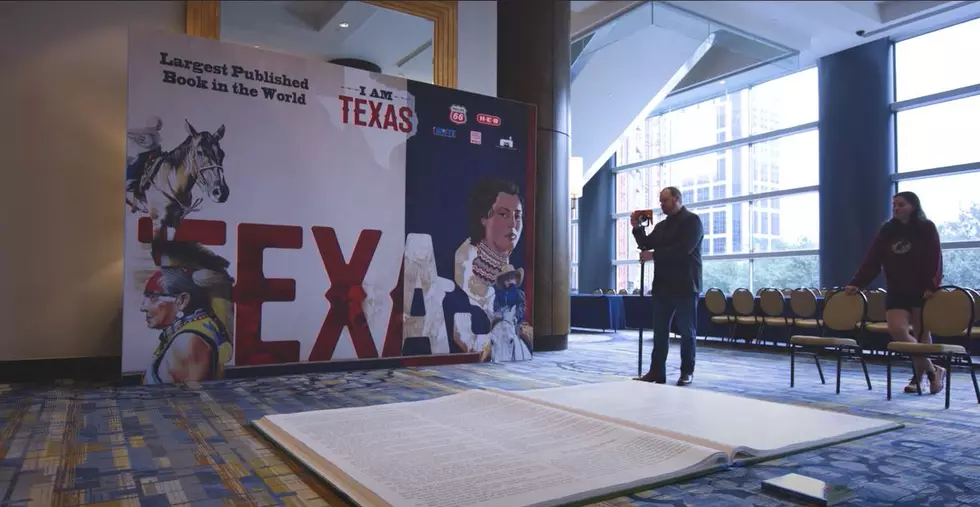 Huge Book Shatters Guinness World Record Proving Everything is Bigger in Texas
iWrite YouTube
The saying "everything is bigger in Texas" has never been so true after a non-profit group set a Guinness World Record for the largest published book in the world. How big is it? Keep reading to see.
Melissa Williams Murphy is the founder of the non-profit group iWrite whose mission is to build student confidence through writing. The group teamed up with The Bryan Museum in Galveston to publish the book "I Am Texas". The book uses over 1,000 kids' stories and artwork to create a book that stands 7 feet tall and 11 feet wide, and weights 496 pounds according to KHOU.
Can you imagine trying to crack this book open to read it? Also, it would take me 3 days to turn one page.
The previous record was set in 2007 in Brazil and according to iWrite's Facebook page, it took 2 years to make.
Breaking the Guinness World Record for the Largest Published book was no easy feat. The project took over 2 years to complete! See how the dedicated staff of both the iWRITE and Bryan Museum, with the help of our partners and 1,000 kids, made sure that Texas would break the long-standing record held by Brazil since 2007.
If you want to get an up close and personal look at this massive book, it will be on display at The Bryan Museum in Galveston and also in San Antonio. You'll also be able to check it out during the H-E-B Thanksgiving Parade in Houston.
How did they make the largest published book in the World?
Check out the video below to see for yourself how this massive book was made.
LOOK: Spectacular Christmas Restaurant in Texas