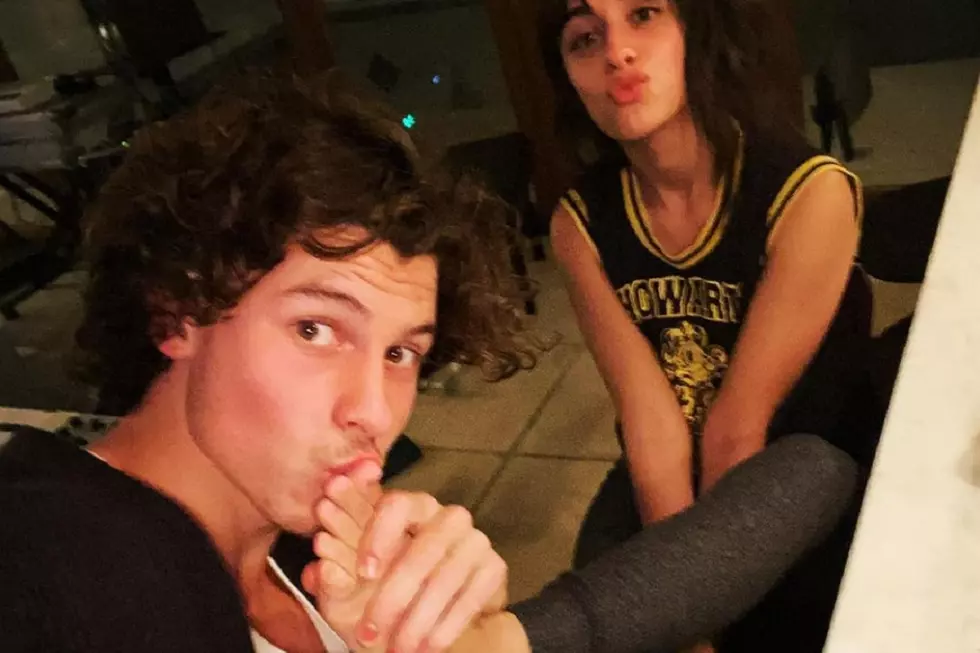 10 Celebrity Couple PDA Moments and Relationship Overshares That Were Way TMI
@shawnmendes via Instagram
From boob grabs to blood vials, some celebrities just can't help themselves from showing their partner a little too much love in public.
Hollywood faves love to pack on public displays of affection, no matter how over-the-top or TMI they are—but when subjected against our will, we (mostly) wish we could un-see them.
Sharing videos of sloppy make out sessions and photos of their foot-loving romance is par the course for not-so-shy young lovebirds Shawn Mendes and Camila Cabello, much like Cardi B and Offset, who have no qualms about giving their fans a front-row view of their tongue wrestling matches. Others, such as Machine Gun Kelly and Angelina Jolie, just want to keep their lovers close... by wearing their biohazards.
If the stars aren't sharing the intimate content themselves on social media, their wacky public make out seshs and fondles can always be snapped by the paparazzi and ordinary bystanders with iPhones.
Below, check out 10 of the most cringe-worthy celebrity PDA moments.
@shawnmendes via Instagram

@shawnmendes via Instagram

1

Shawn Mendes Kisses Camila Cabello's Foot on Instagram

For Valentine's Day 2021, Shawn Mendes showed his love for Camila Cabello by wrapping his lips around her big toe—and sharing the gesture for all the world to see. Mendes posted a picture of the tender moment on Instagram, where it was met with both horror as well as adoration in equal measure. (Praise also came from folks hoping to normalize foot fetishes. To each their own, of course!)

Steve Granitz via WireImage

Steve Granitz via WireImage

2

Offset and Cardi B's Red Carpet Spit Swap

On the 2019 Grammy Awards red carpet, on-again, off-again couple Offset and Cardi B swapped spit as photographers snapped away.

Kevin Winter, Getty Images

Kevin Winter, Getty Images

3

Angelina Jolie Wears Billy Bob Thorton's Blood in a Vial Necklace

After they got married in 2000, Angelina Jolie and Billy Bob Thornton wore vials of each other's blood. "She thought it would be interesting and romantic if we took a little razor blade and sliced our fingers, smeared a little blood on these lockets and you wear it around your neck just like you wear your son or daughter's baby hair in one," Thornton told The Hollywood Reporter in 2014.

@candacebure via Instagram

@candacebure via Instagram

4

Candace Cameron Bure's Husband Cups Her Breast on Instagram

Full House star Candace Cameron Bure stirred up controversy on Instagram when she posted a photo of her husband cupping her breast over her shirt. After receiving an onslaught of negative comments, she deleted the post. After some time though, she re-posted the photo and clapped back: "For all of the Christians that are questioning my post with my husband's hand on my boob — my husband of 24 years — thinking it was inappropriate, it makes me laugh because it's my husband. We have so much fun together."

Frederick M. Brown, Getty Images

Frederick M. Brown, Getty Images

5

Jessica Simpson's Wedding Night Recap

Back in 2002, the media and the public cared more about Jessica Simpson and Nick Lachey having sex after their wedding than the actual wedding itself. Following their wedding night, the pop star told Blender magazine, "It was the most amazing moment of my life. I'm so lucky I didn't lose my virginity in the back of a Jeep or something. Instead, I had this amazing, elaborate wedding and I topped it off with that!" Later, Simpson detailed the experience in her biography, Open Book: "I'd built up this anticipation in my mind that the first time I had sex with my husband had to be this transcendent experience where the heavens parted. What I didn't know then is that everyone's first time is awkward, and that is part of it. And that it's OK, but at the time, it's tough to understand. I had joined a long line of virgins in my family who said yes to forever for that one experience."

6

Orlando Bloom Gets Handsy With Katy Perry on the Beach

Orlando Bloom and Katy Perry had a really good time while vacationing in Italy in 2016. Not only did the Pirates of the Caribbean star strip down to skinny dip in broad daylight, and then go naked paddleboarding, but the actor was also photographed grabbing handfuls of Perry's cleavage while relaxing on the beach.

7

Tom Cruise Jumps for Joy for Katie Holmes

Tom Cruise became overwhelmed while talking about then-girlfriend Katie Holmes on The Oprah Winfrey Show in 2005. "I'm in love," Cruise told the audience with a grin after standing up during the interview to punch the air and jump on the couch.

"We've never seen you behave this way," Oprah replied, laughing. The infamous televised display of affection has been seared into the minds of the American public ever since.

Jon Kopaloff, Getty Images

Jon Kopaloff, Getty Images

@chrissyteigen via Instagram

@chrissyteigen via Instagram

9

John Legend Eats Chicken Wings Off Chrissy Teigen's Butt

In 2015, Chrissy Teigen masterfully balanced a plate of chicken wings on her butt, while simultaneously, playfully teasing husband John Legend. The "All of Me" singer enjoyed said plate of chicken wings—and the view of his wife's runway-ready posterior—while taking a dip in their pool.

@machinegunkelly via Instagram

@machinegunkelly via Instagram

10

Machine Gun Kelly Wears Megan Fox's Blood Around His Neck

In 2021, Machine Gun Kelly revealed he wears a vial of Megan Fox's blood around his neck. In a photo posted to Instagram, the rapper showed a necklace that contains a drop of the actress' blood inside of it. "I wear your blood around my neck," he captioned the image.

On her own Instagram account, Fox responded with a poem: "There goes my heart, manifest out of my body, draped in the towering silhouette of a most unusually handsome boy."