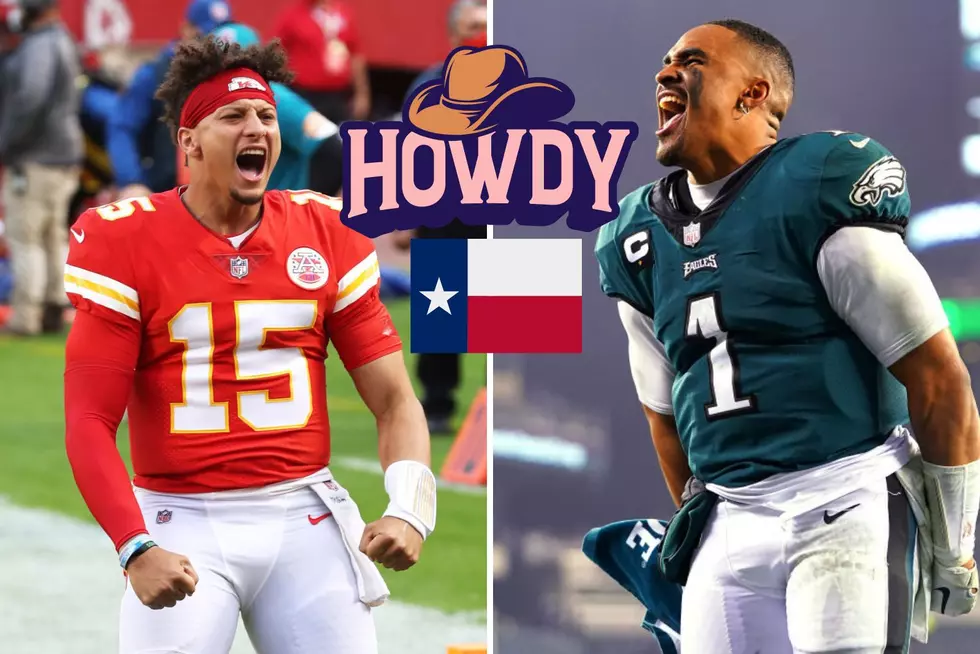 All 10 Football Players From Texas In Super Bowl LVII
Getty Images/Canva
The Texas high school gridiron is one of the best places in the country to get your start in football. It's only fitting that players from Texas would end up in the biggest game in sports - The Super Bowl.
Texas and high school football go hand in hand, but recently that hasn't translated for our professional teams. The Texans have never played in a Super Bowl and the Cowboys haven't since 1996. (I know, don't rub it in.)
That doesn't mean that players from The Lone Star State don't get on other teams once they go professional and make it to the Super Bowl. That is especially true for Super Bowl LVII coming up in Arizona on Sunday, February 12, 2023.
Both Starting Quarterbacks In The Super Bowl Are From Texas 
Kansas quarterback, Patrick Mahomes, is from here in East Texas where he played for the Whitehouse Wildcats. He famously threw 50 touchdown passes during his high school senior year.
Mahomes continued to make a name for himself while playing for Texas Tech and was prime for the NFL. He went to the Kansas City Chiefs in 2017 and since then they have been to the Super Bowl 3 times and heading into their 4th.
After just a few years with the Kansas City Chiefs, Mahomes signed the biggest professional sports contract in NFL history. It took $450 million to lock him in until 2032, and that has already started to pay off for the franchise.
Eagles quarterback, Jalen Hurts, is Houston born and bred. He played in high school for Channelview where his father is still head coach according to KHOU 11.
Take a look at all the players from Texas in the Super Bowl.
10 Players Born In Texas Playing In Super Bowl LVII
Both starting quarterbacks are from Texas, but who has the most Texans on their team?
Top 10: These Are Texas' Most Expensive High School Football Stadiums in '22
There's a reason every good high school football movie is based in Texas. Here in the Lone Star State Friday nights are revered and our young men in football pads exalted to legends in their hometowns. In fact as of last year, Texas is only second to Florida (by two players) as the state with the most players in the NFL.