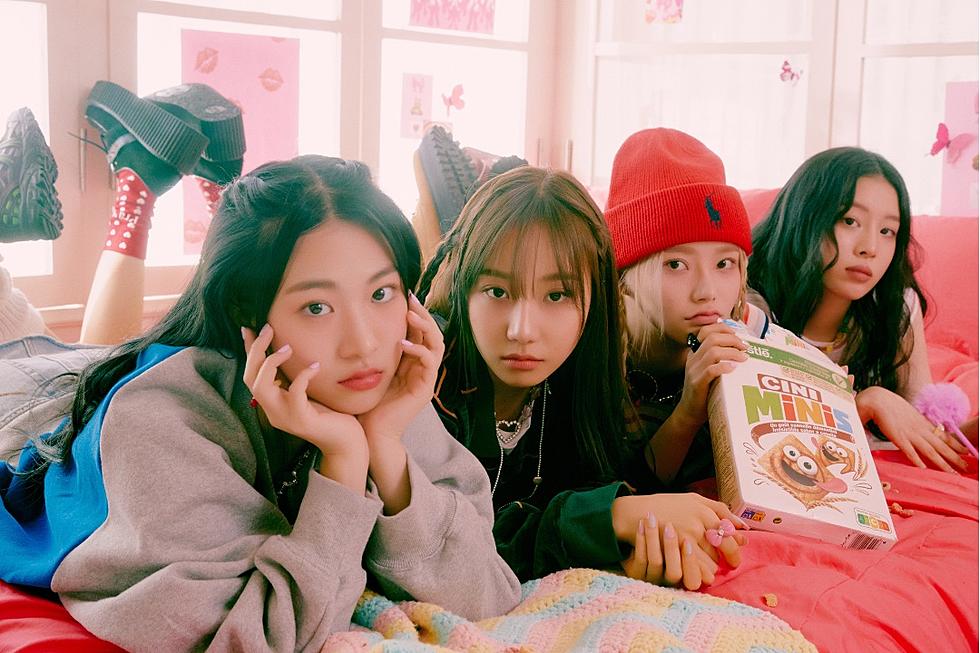 K-Pop Rookies FIFTY FIFTY Can't Believe 'Cupid's Viral Success: 'So Surreal'
Courtesy of ATTRAKT via Creative Content Group
It's been a little over two months since the release of K-pop group FIFTY FIFTY's viral smash, "Cupid" (Feb. 24).
So much has happened since the rookie girl group debuted with their EP, THE FIFTY, on small label Attrakt in November 2022. Making history as the fastest K-pop group to enter the U.S. Billboard Hot 100 ("Cupid" sits at No. 41 spot as of publishing), the group has been on a consistent upward trajectory of success both domestically and internationally — largely sparked by the virality of their bright, disco-pop hit, which has become a trending sound on TikTok.
On Spotify, FIFTY FIFTY have reached over 29.5 million monthly listeners as of early May. Considering the ongoing craze surrounding "Cupid," that number will likely only continue to grow.
Watch FIFTY FIFTY's "Cupid" Music Video:
Below, FIFTY FIFTY members Aran, Keena, Sio and Saena tell PopCrush about their growing popularity, favorite TikTok trends and desire to dip their toes into rock.
First off, congratulations on everything. Are you aware of your popularity at this point?
Saena: I still don't believe it. Everything feels so surreal. We were hearing people say, "Oh! You know we've heard your song on the street?" and "We've seen your videos everywhere." But doesn't hit us this hard as they say it really does. So, we're very happy and it definitely feels surreal.
Do you remember the first time you realized how viral "Cupid" went?
Aran: Right now!
Sio: Actually, it was [when we placed on] the Billboard chart and Melon charts in Korea.
Keena: I also remember this video in a restaurant in a foreign country outside of Korea and there were about 20 to 30 people sitting and eating at the restaurant, and when "Cupid" came on they started singing and started dancing together. I think that was the moment I realized, "Wow. People really love our song, and enjoy our music."
Sio: I think the most memorable event for me so far was the press conference. It was the turning point for us because we talked about ourselves and our music in front of so many reporters, and I think that's the moment where we could really recollect and realize, "Wow, we are in this as a group!"
READ MORE: K-Pop Star DAWN Explains Why He Feels 'Freer Than Ever'
You're now signed to Warner Music and are starting to get radio play.
Sio: I heard in the States, because there are so many people driving everywhere, radio play is so important and it's kind of like a measurement of success when your song is played, [showing] that you've made it. It all just feels surreal but exciting to know that our song will be on those stations, and in cars across the country. It's a very honorable opportunity.
In past interviews you all expressed wanting to dive more into songwriting. If you could write a song to describe how you're feeling right now, what would it be about?
Sio: I keep thinking of a song with a storyline, and the song that just came to my mind was "This is Me" from The Greatest Showman. I would like [that song] to represent what I'm feeling right now. I would probably write a song like that.
Are there any other concepts you'd like to explore outside of the group's retro, dreamy pop concept?
Aran: Actually, I want to try some hard rock. We're trying some easy-listening songs right now, with comfortable and dreamy vibes. So I want to try something completely opposite like hard rock, or something with an electric guitar.
Saena: Rock? Wow!
Sio: I love it! I like that! Rock spirit! These days I'm listening to some Oasis songs and AC/DC's "Highway to Hell."
Aran: Oh, AC/DC is so good.
Do you have a favorite TikTok trend or sound? Besides "Cupid," of course.
Aran: I recently listened to SZA's "Kill Bill" song. [Starts singing:] "I just killed my ex, not the best idea…"
Saena: For me, these days it's Jisoo's "Flower." It's a challenge that I currently love watching.
Sio: The vocal challenge [featuring CeeLo Green's "Crazy"]. [Starts singing:] "I remember when, I remember when..."
Who would you like to see do the "Cupid" challenge on TikTok?
Aran: My family! Seriously! My younger brother, my mother, my father.
Saena: My brother.
Aran: Your brother and my younger brother should dance to "Cupid" together then.
Saena: And my pet! My dog and cat.
Aran: That's my real dream.
Sio: Oh, Sam Smith!
Saena: Beyonce!
When you were trainees, what was one thing you always wanted to do when you debuted? What are your goals now?
Keena: When I was a trainee, my goal was to [take part in] end-of-the-year award shows. I think every trainee dreams of that stage because it's a once-in-a-year opportunity you can [perform] your songs on the most festive stage ever. Another goal and dream was attending Coachella. I remember watching Coachella [performances] and thinking about wanting to be there and how cool it would be.
Saena: For me, my main goal was to debut, of course. But right now my dream and my goal would be to communicate with people through music ... they can resonate with and relate to.
The meaning behind FIFTY FIFTY is having a balance of two characteristics. How would you describe the "FIFTY FIFTY" of the member next to you?
Aran: I'm cute. But Keena is also cute! She's FIFTY percent cute and FIFTY percent charismatic.
Keena: Sio's FIFTY FIFTY calm and lively!
Sio: Saena's FIFTY FIFTY would be leadership and longevity. She has very many connections but they are long-lasting.
Saena: Aran's FIFTY [percent] sleep and FIFTY [percent] nap!
Aran: They're the same thing!
Most Unique K-Pop Light Sticks Ever
From magical scepters to baseball bat, here are some of the most unique and fun K-pop light stick designs.