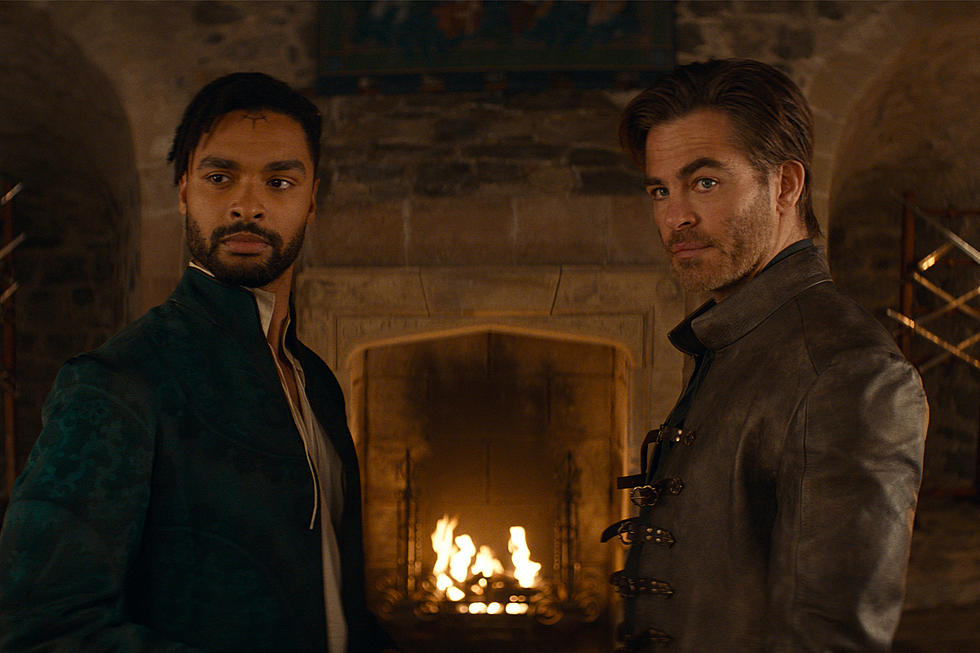 'Dungeons & Dragons' Review: Fantasy Meets Funny In Blockbuster Adventure
Paramount Pictures and eOne
According to the Wall Street Journal, A-list action stars like Dwayne Johnson, Vin Diesel, and Jason Statham now ask for clauses in their film contracts that ensure they never lose a fight and always look tough and strong onscreen. ("According to producers and crew members on the [Fast & Furious] films," the WSJ report read, "Mr. Statham, 51 years old, negotiated an agreement with the studio that limits how badly he can be beaten up on screen," while Johnson supposedly "enlists producers, editors and fight coordinators to help make sure he always gives as good as he gets.")
It's pretty clear that Chris Pine doesn't make those kinds of contractual demands of his big-budget spectacles. In movies like the Star Trek, Wonder Woman, and now Dungeons & Dragons: Honor Among Thieves, Pine has carved out a blockbuster niche playing the sorts of roles other macho stars have abandoned: Charming, self-effacing underdogs.
All of those aforementioned action heroes would have rejected Pine's Dungeons & Dragons character out of hand. His Edgin is technically a bard, but he's really more of a schemer, and not an especially effective one at that. You expect the protagonist of a film titled Dungeons & Dragons to stride through its center swinging a sword or an axe. Instead, Edgin wears a lute slung over his shoulder where a weapon would typically be. Occasionally, he even plays it — badly. Edgin barely throws a single punch in Honor Among Thieves' 134 minutes, though he does a fair amount of running away from danger.
It takes a great deal of self-confidence to play this sort of "hero," along with a lack of vanity that's rare among big stars. Pine never seems like he's pandering for a laugh, and never seems concerned about getting upstaged or looking weak or foolish. He also never seems alarmed or surprised by the strange monsters, wizards, or beasts he encounters. And why should he? This is Dungeons & Dragons, where strange monsters, wizards, and beasts are everyday occurrences.
That, along with Pine's performance, are the most refreshing things about Honor Among Thieves, a movie that outperformed and overdelivered on my expectations. It manages to capture not only the adventure of the Dungeons & Dragons role-playing game, but also the sense of camaraderie the game engenders, because it is typically played by groups of close friends meeting regularly for months or even years to a complete a campaign. In a comparatively brief and brisk 134 minutes, Honor Among Thieves brings together a quirky party of rogues, warriors, wizards, and shapeshifters, and sets them on an epic quest to rescue a fair maiden, save an imperiled kingdom, and crack a lot of dry jokes.
As the film begins, Edgin and his constant companion, the barbarian Holga (MIchelle Rodriguez), have been imprisoned for a heist gone wrong. Years earlier, Edgin's wife had been killed by a Red Wizard, leading him to abandon his work as a Harper (basically a D&D cop) and become a thief to provide for his daughter Kira (Chloe Coleman). Edgin assembled a crew of crooks that included a bumbling sorcerer named Simon (Justice Smith) and the cunning con artist Forge (Hugh Grant), and they learned of a magical tablet that could resurrect his lost love. Edgin and Holga botched the theft of the tablet and landed in jail; when they finally get out, they find Kira has been taken in by a corrupt nobleman. So they need to reconnect with their old crew —and recruit a few new allies like the body-morphing Doric (Sophia Lillis) and the brave paladin Xenk (Regé-Jean Page) — to save her.
The path to freeing Kira is not a straight line; this intrepid party must seek out specific artifacts to aid their odyssey and — spoiler alert — they do wind up in at least one dungeon where — additional spoiler alert — they meet a dragon. But in these and other scenes directors/co-writers Jonathan Goldstein and John Francis Daley subvert our assumptions about how these encounters should and will play out. There have been a lot of dragons in movies and TV in the last few years, but Honor Among Thieves introduces a legitimately novel one that I, at least, hadn't seen before.
Goldstein and Daley also draw on the history of Dungeons & Dragons to fill their frame with loads of weird creatures, interesting locations, and surreal imagery; almost every scene has some new thing to gawk at and ponder. And the effects are generally better than average for Hollywood blockbusters, which too often these days look like they were shot in one big green room with backgrounds filled in later by artists under backbreaking deadlines. Honor Among Thieves takes its characters all over its fantasy realm, from scenic beaches, to underground caverns, to a bustling castle, and each feels like a distinct and fully realized place.
I've only played Dungeons & Dragons a handful of times in my life, so I am not an authority on the game by any means. But the times I did play D&D closely mimicked the vibe of Honor Among Thieves: Big adventure punctuated by dorky humor. Dorks love a good quest for treasure or glory, but also enjoy acknowledging well-worn storytelling tropes and clichés. Nobody around the table where I played my D&D games was anywhere near as handsome as Chris Pine. But like his character, we lost a lot of fights and kept on playing anyway. That's what true heroes do.
RATING: 7/10
The Worst Billion-Dollar Blockbusters
All of these movies grossed more than $1 billion at the box office. And they all stink.