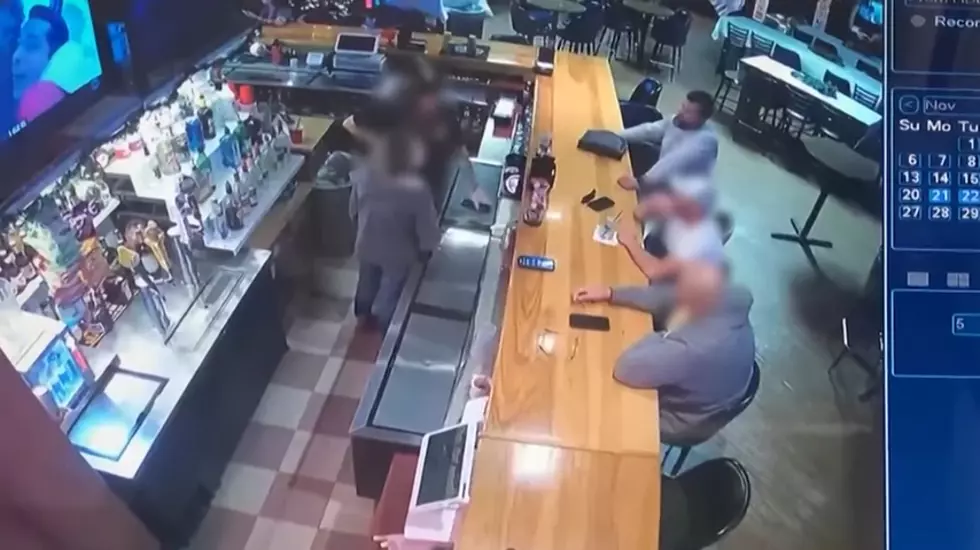 Austin Attorney Tries to Kill Ex-girlfriend and Himself in a Bar
KVUE, YouTube
Police are saying Austin, Texas attorney Gavin Rush, walked into a bar where his ex-girlfriend works, pulled a gun out, and tried to shoot her. Get this: it was all captured on camera.
Don't You Hate A Decoy?
Have you ever needed a business or companies' surveillance video footage, only to find out that they are actually decoys or they "don't or weren't working that day?" Well, you don't have to worry about that at Anderson Mill Pub, located in Austin. This is how it all went down on Nov. 26.
The Break Down
According to a KVUE interview, two regulars (who want to remain anonymous, so lets call them regular #1 & #2) say they knew attorney Gavin Rush. He was also a regular, and frequented the bar a lot. "He never showed any signs of acting like this before," #1 said.
Rush walked into Anderson Mill Pub #1 said, "already looking like he wasn't in a good place."
Looks like he gave #1 some dap upon entering (insert side-eye). He had some type of bag or notebook case and placed it on the bar.
According to police reports, he stands there and asks to talk to his ex-girlfriend, who was standing behind the bar (the one in the gray sweater).
 When she tells him she didn't want to talk to him, he reaches in the bag, pulls out a gun and points it at her chest.
#1, sitting next to Rush, with no hesitation immediately jumped into action. With his initial contact, he managed to re-direct the hand with the gun, which caused a shot to be fired, thankfully missing his aim.
From there, the struggle began. In jumps #2, who helped to eventually tackle Rush.
Two more shots were fired before they hit the ground. They held him down until the police arrived on the scene. One of the bullets flew right by #1's head, who says he now has absolutely no hearing in his left ear.
Court records show, Rush has been charged with Aggravated Assault With a Deadly Weapon Family Violence.
So, to add insult to a crazy situation, 48 hours go by and they release Rush on a $4,000 bail. The ex did get an emergency protection order granted, but seriously? He's out? Just like that? I guess his attorney privilege was also granted. Smh.
Social Media Frenzy
Residents and many leaders in the community are outraged that Rush was able to be released so quick and easy. Austin City Council Member, McKenzie Kelly, was so disturbed, she took to social media and shared the video herself. Even Thomas Villareal, Head of Austin Police Association said,
"this particular case seems to be one where the courts have failed the victim."
Leading Up To The Incident
So, Police documents state that Rush and the young lady had been in a 3-year relationship prior to the shooting incident. They had been broken up for about a month before he decided to come up to the pub. He wanted her back, and was persistently pursuing her. He was giving her unwanted attention, creeping her out, and even threatened her with violence. I wonder if she had already reported him to the police before all of this, right?
During the struggle with #1 and #2, it is said Rush tried to kill himself. One of the rescuers said, "it could have all went down so differently and it didn't, thank God." All he wanted to do was to go home to hug his baby.
Thoughts?
I just can't with people. And this man is an attorney folks. You can't keep nobody from doing anything these days. How do you feel about it. Download our free app. Tap the chat button and send me a message. I'm going to just shake my head on the way out of this one.
K-Lew out!
FBI Says Texans Need to Watch Out for These Scams
These scams are hitting Texas and the FBI doesn't want you to become the next victim.
Beware Of The 10 Most Dangerous Counties To Live In Texas
Texas is a huge place with some great areas in which to settle down, but some counties don't have the best vibe. Here are the ones some say you should avoid.
Texas 6 Most Wanted Fugitives
Take precaution and familiarize yourself with the following faces. These criminals are currently listed in the Texas 10 Most Wanted.