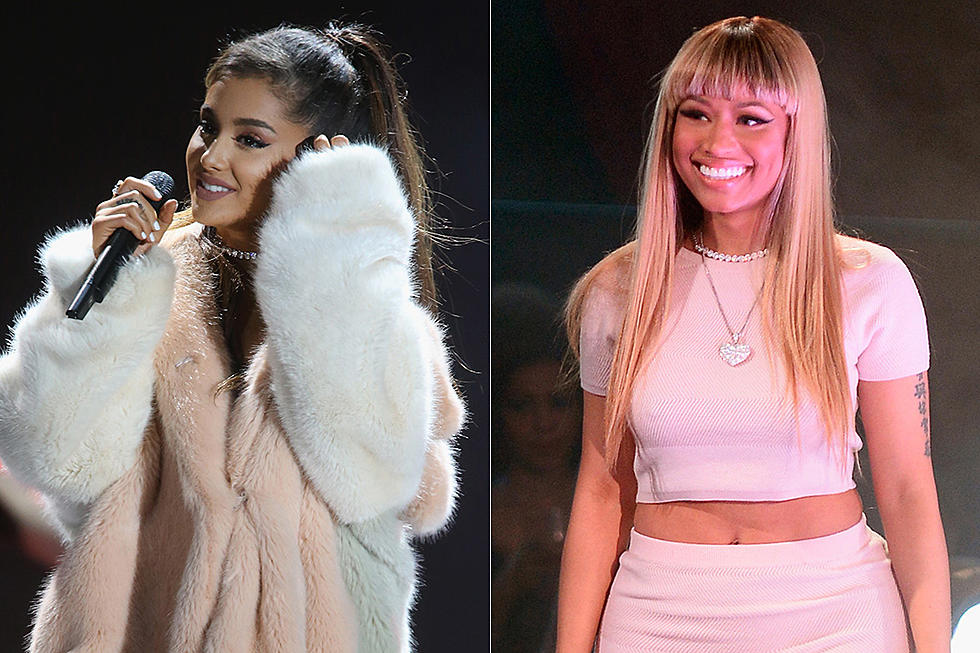 Ariana Grande Buys Nicki Minaj Matching Chanel Choker
Frederick M. Brown / Bryan Steffy, Getty Images
Since first working together in 2014 on "Bang Bang" with Jessie J, Ariana Grande and Nicki Minaj have maintained a good friendship. The artists have gone on to team up on Minaj's "Get on Your Knees" and Grande's "Side to Side." Now, Grande is celebrating their friendship by gifting Nicki a Chanel choker.
The "Chun-Li" rapper unveiled the gift on Instagram, posting a photo of the choker and revealing that Grande has a matching one. "Both my fans AND I would cut a btch for my little sissy @arianagrande," she wrote with a crying emoji. "She bough me this lovely Chanel choker to match hers. Ugh! Her mind!"
Grande has praised Minaj in the past, calling the rapper her big sister. Earlier this month, the "No Tears Left to Cry" singer tweeted, "i love my big sis @nickiminaj so f----- much... there's jus nobody better." And if anyone thought she was just tweeting lyrics, Grande made sure to clear up the confusion. "That ain't lyrics i'm just talkin about my big sis," she added.
Nicki broke the news on Instagram on Thursday (May 24), telling her fans on Instagram Live, "The album itself I think I want to put out on August 10. I want to put out my second single, which I'm really, really excited about, and I want to now start an official countdown."
Check out Minaj's Instagram post below.
Met Gala 2018: See All the Celebrity Red Carpet Looks