Jamie Lee Curtis Stands Up For Lindsay Lohan Following Resurfaced Misogynistic Donald Trump Interview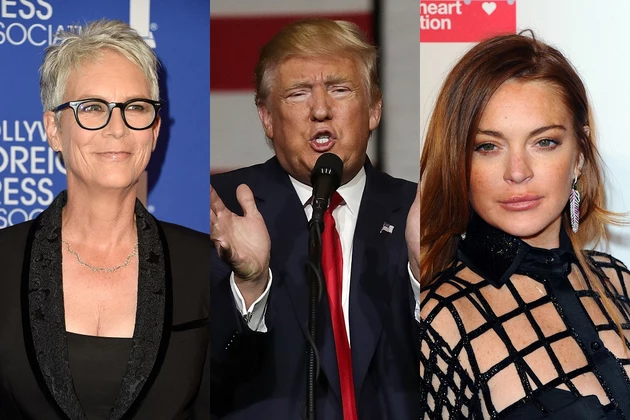 Jamie Lee Curtis may have played Lindsay Lohan's mom in 2003's Freaky Friday, but it turns out the actress has a maternal side for the Mean Girls star in real life, too.
On Friday, October 14, Curtis put Donald Trump on blast for the misogynistic and insensitive comments he made about Lohan during a resurfaced 2004 interview on Howard Stern.
While appearing on Stern's radio show in 2004, Trump remarked that then-teenage Lohan, only 18 years old at the time, was "deeply troubled" and therefore probably "great in bed."
Speaking about Lohan's publicly-known rift between her and her father, Michael Lohan, Trump asked Stern, "Now does the father [being a] wreck, does that bother you a little bit?"
"Howard feels that the father being a wreck is a good thing," interjected Stern's co-host Robin Quivers.
"Oh yeah, because first of all, if the father's a wreck like the way he is…Can you imagine the sex with this troubled teen?" Stern added.
In responses, Trump agreed: "Yeah, you're probably right. She's probably deeply troubled and therefore great in bed. How come the deeply troubled women, you know, deeply, deeply troubled, they're always the best in bed?"
Horrified, Curtis posted a promotional photo of her and Lohan from Freaky Friday and addressed Trump on Twitter, writing, "How dare you. She needed help."
Meanwhile, a representative for Lohan issued this statement to CNN:
"Right now, Lindsay is choosing to focus on the positive things happening in her life and has decided to disregard the comments made about her by presidential nominee Donald Trump. She is focusing on helping children around the world in need, and that's where her passion is."
See Curtis's tweets, below:
Trump denied groping a woman by her looks. "Take a look. You take a look, look at her, you tell me what you think. I don't think so." pic.twitter.com/QOyP8SFyGj

— Jamie Lee Curtis (@jamieleecurtis) October 14, 2016
How dare you. She needed help. @realDonaldTrump. "Yeah, you're probably right, she's probably deeply troubled and therefore great in bed." pic.twitter.com/nWTHK8ltOh

— Jamie Lee Curtis (@jamieleecurtis) October 14, 2016
21 Artists Who Banned Politicians From Using Their Music

Source:
Jamie Lee Curtis Stands Up For Lindsay Lohan Following Resurfaced Misogynistic Donald Trump Interview