Aaron Carter Gains a Healthy 30 Pounds + Meryl Streep Condemns Harvey Weinstein: Pop Bits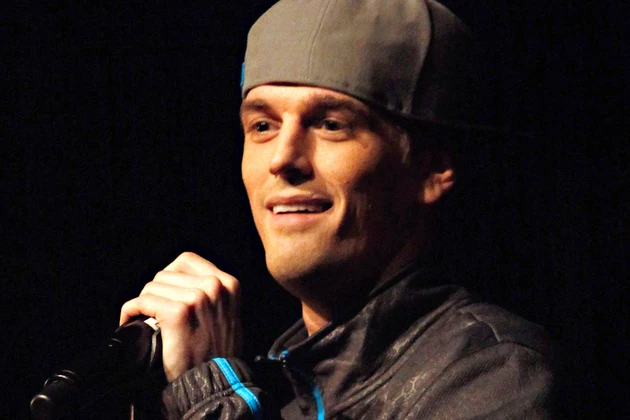 Kathie Lee Gifford chronicles a Weinstein-like encounter, Usher has legal trouble and more in today's Pop Bits:
Aaron Carter checked into a rehabilitation facility about two weeks ago, and he's apparently already put on some serious weight. Rather, put back on some weight, as he looks much healthier in the after picture than the before picture, in a recent Instagram post. He later added, "Thank you to everyone who has continued to believe in me and stick by My side. I will always aim to make you proud but this was for me."
Meryl Streep, a three-time Best Actress Oscar winner who has praised Harvey Weinstein in the past, shared a statement with The Huffington Post regarding the recent sexual harassment accusations made against the disgraced Hollywood mogul: "The disgraceful news about Harvey Weinstein has appalled those of us whose work he championed, and those whose good and worthy causes he supported. The intrepid women who raised their voices to expose this abuse are our heroes."
In the same way a TV reporter described a disgusting meeting with Harvey Weinstein 10 years ago, Kathie Lee Gifford told a story about how when she was 21 and just starting out in the entertainment industry, a producer invited her to his house and masturbated in front of her.
"I felt grateful I got out of there without being raped," Gifford told her Today show co-host, Hoda Kotb. "That's what you feel like. 'All right, it was just that. I can live through that.' But you're so demeaned, you feel so dirty. More than anything, you know what you feel? Stupid. I just thought, 'Kathie, you idiot. Never go to somebody's house.'"
In his ongoing legal battle with Laura Helm, Usher has now filed documents suggesting that Helm knew the risk of having unprotected sex before she chose to do it. "With a one in six chance that any given partner could have genital herpes," the documents say, "[she] assumed the risk of contracting an STD each and every time she chose to have unprotected sex with a casual, consensual partner."
The popular radio host whose callers frequently share heartfelt stories with her told listeners she'll be taking a leave of absence to grieve the suicide of her son, one of 13 children. "My heart is broken beyond repair and I can not fathom how to go on," she wrote in a message to her fans and supporters:
A message from Delilah… pic.twitter.com/d25Bl8PRvF

— Delilah (@delilahradio) October 7, 2017
---
Stars Who Bravely Came Out:

Source:
Aaron Carter Gains a Healthy 30 Pounds + Meryl Streep Condemns Harvey Weinstein: Pop Bits